This post may contain affiliate links. Read my disclosure policy here.
When I was pregnant with my second daughter everyone kept asking what I needed for the new baby. I would pretend to think hard, but I already knew the answer: diapers. I had kept all of our baby clothes, but what I really needed were those items that you don't hold on to: diapers, shampoo, diaper rash cream, etc.
So when my friends threw me a little shower, that was what I got – lots of diapers. My husband's co-workers took it one step further and made me a diaper cake. It was such a fun and thoughtful way of presenting an ordinary gift, I knew that the next time I went to a baby shower I wanted to bring a diaper cake.
eDiaperCakes.com is a mom-owned, family-run company that makes and sells a variety of one-of-a-kind diaper cakes. All their diaper cakes are assembled by hand and include high quality products.

I received the ABC Flashcards Diaper Cake in the mail and was instantly impressed. Inside the box the diaper cake was individually wrapped and then surrounded by balloons to ensure the cake didn't shift too much in shipping. A tag tied to the top informed me of all the goodies included with my diaper cake.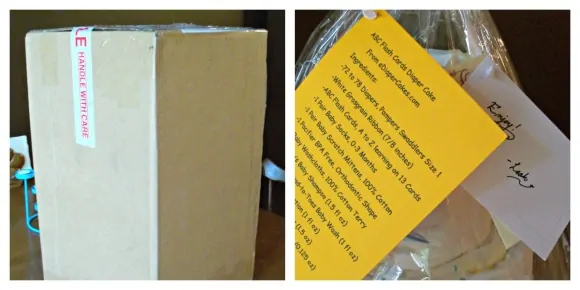 I was impressed with the products that were on the diaper cake. The diapers were Pampers and the hygiene products were all Johnson & Johnson. Until now my daughter had only taken the pacifier given to her at the hospital, but she actually has taken the one included on the diaper cake!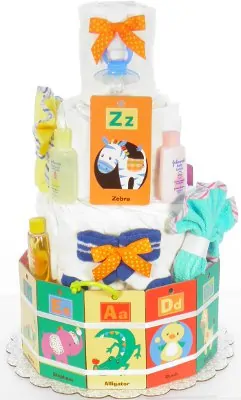 My favorite part of the cake, however, are the ABC flashcards. They are very sturdy and come with a little ring to hook them all on. Each flashcard has a different animal to represent the letter. Plus they were super cute! The cards were colorful and the illustrations whimsical. As I was looking through them, the crafter and party planner in me kept coming up with all the adorable baby showers that could be centered around these flashcards. There are so many colors to choose from, plus you could use all the various animals to decorate. So many ideas!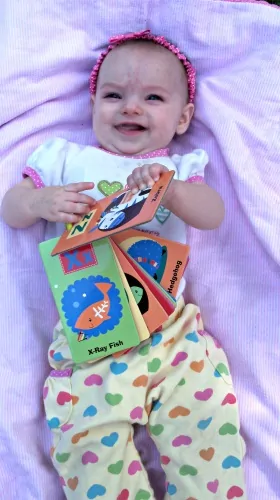 Win an ABC Flashcards Diaper Cake!
Are you throwing a baby shower anytime soon or are you looking for the perfect gift for someone who's expecting? Enter to win this ABC Flashcards Diaper Cake giveaway! Just use the Rafflecopter form below to enter. New to Rafflecopter? Watch this 45-second video on how to enter!
Disclosure: I was sent a diaper cake for review and received compensation, but all opinions are 100% mine.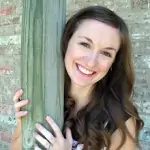 Brittany is a stay at home mom to two beautiful little girls. When she's not busy keeping up with them she loves to create and blog about her creative adventures. You can join the fun at My Decoupaged Life, or on Facebook and Twitter.