This post may contain affiliate links. Read my disclosure policy here.
I feel like I'm always on the go – even in summer. I make some time for myself by heading to the gym, but once I finish my workout, I'm off again – no time to stop at home and refuel and recharge. When I remember, I try to put some high protein snacks in my car so that my body can rebuild some of the muscle I worked and my mind can get back on track. I haven't found a favorite though, so my motivation to keep them on hand isn't where it needs to be. Premier Protein recently sent me some of their shakes and bars to try out, and I think I've found my solution.

The protein bars easily fit in the console of my car and didn't melt even in this horrid heat we've had lately in Chicago. My personal favorite was the double chocolate flavor. It wasn't chalky like many other protein bars can be, and it didn't leave a nasty aftertaste in my mouth. I enjoyed eating it, and the chocolate flavor really shone through. The bars contain 30 grams of protein and only 10 grams of sugar, making it a winner in my book. I was pleased to note that they weren't filled with sodium, either, which is my pet peeve with many processed foods.
While these aren't the "100 calorie" snack bars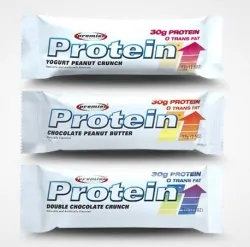 you see everywhere, that isn't their purpose. I am not eating these as a casual snack; for me this is refueling after a workout, so the 280 calories in the double chocolate crunch is perfectly acceptable to me, as are the 290 in the chocolate peanut butter and the yogurt peanut crunch. These would also be a great replacement for that breakfast I too often forget to eat as I'm hustling everyone out the door in the morning – again.
I am not a huge peanut butter fan, but my husband adored the chocolate peanut butter flavor and confiscated both the bars I was sent. I haven't seen them since! The yogurt peanut crunch had less of a peanut butter flavor, though it was missing the chunks of peanuts I was expecting based on the name. This one seemed more of a dessert than the others, possibly because of the yogurt coating on the outside of the bar.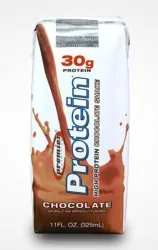 Premier Protein also makes shakes in vanilla and chocolate flavors. They come in two sizes, an 8.25 ounce portion with 18 grams of protein, and an 11 ounce portion with 30 grams of protein. Both of these are lower in calories than the snack bars – 100 for the smaller size and 160 for the larger – while still containing a significant amount of protein. I enjoyed the flavors of these, but they definitely need to be drunk cold. They are not designed to be drunk at room temperature, so this is one where I have to refuel at home – or in winter.
I love having another choice for protein that actually tastes good, something that for a long time was a challenge. Even better, both the Premier Protein bars and the shakes can be purchased at Sams Clubs nationwide. The shakes can also be purchased at Costco, and the bars are also available at Wal-Mart.
Enter to win a Prize Pack of Premier Protein Shakes and Bars.
Five (5) winners will each win this generous prize pack:
6 Premier Protein bars: 2 bars in each flavor (Chocolate Peanut Butter, Double Chocolate Crunch and Yogurt Peanut Butter Crunch)
4 Premier Protein shakes: 2 shakes in each flavor (chocolate and vanilla)
US entries only, please. Just use the Rafflecopter form below to enter this giveaway. New to Rafflecopter? Watch this 45-second video on how to enter!
In the interest of full disclosure, I received sample products from Premier Protein for review purposes. I was also compensated for writing this post, but all opinions remain my own.