This post may contain affiliate links. Read my disclosure policy here.
What exactly is a power mom?
Chicken Soup for the Soul highlights the power of choice that SAHM and WAHM's exercise daily in their new offering, Chicken Soup for the Soul Power Moms: 101 Stories Celebrating the Power of Choice for Stay at Home and Work from Home Moms. The essays included highlight the fact that we have a lot of choices as moms, and will often move from one choice to another.
This anthology features some writers with whom many of you are familiar: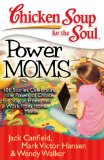 I wouldn't normally think about recommending this sort of book for a book club, but this one has questions for discussion, and I think that reading this book with a group of women in the same boat that you are in could open up a wonderfully honest and supportive conversation.
If you like Chicken Soup for the Soul books, keep your eye on the 5 Minutes for Books feed, because I will be featuring two other titles in a great Mother's Day Giveaway (we'll be giving away over $200 of books in April!).
We have three copies of Chicken Soup for the Soul: Power Moms to give away to a reader with a U.S. or Canadian address. Just leave a comment, and check next week's column to see if you won (the contest is over).
The winners of last week's book Everyone is Beautiful are #11 Shirley Rogers, #26 kris #153 Betty C.
This review was written by contributing editor Jennifer Donovan, who manages 5 Minutes for Books and blogs at Snapshot.