This post may contain affiliate links. Read my disclosure policy here.
Stacey here…
I am the kind of woman who appreciates fine fashion sense in others, but can't seem to muster an ounce of it in myself. I've been this way as long as I can remember, and it has only gotten worse as I've become a busy mom with little time to find what clothes work best on me.
The team behind Tog + Porter built their company around helping women like me. They offer unique services to meet one-on-one via video chat with a personal stylist who will assess your current wardrobe, individual needs and tastes, and then send a box packaged with designer items and a custom style board just for you.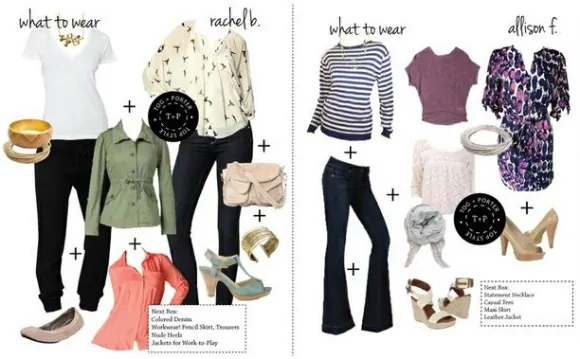 A personal touch is the cornerstone of Tog + Porter's business, and they have come to 5 Minutes for Mom to share some of their knowledge and expertise with our readers.
First, a few questions for the ladies…
How does a woman go about defining her own personal style?
Your style is defined by what you feel confident and comfortable in. Your personality, unique experiences and lifestyle are all factors that influence your personal style. It's important to recognize that style is an ever evolving and organic thing. That's the beauty of it! There is no need to be boxed into one style category. Fashion should be fun and we think every woman should embrace it and use it as form of self-expression.
What are some common mistakes women make when shopping for clothes?
Top 3 common shopping mistakes: 1) Focusing on a trend or buying individual pieces that leave you with a bunch of strays and nothing that goes together. 2) Getting sidetracked by size. We all know every designer runs differently. It's not about the number on the tag, it's about fitting you perfectly. 3) Working so hard to camouflage something that it backfires! Focus on your overall shape and how to balance, rather than covering up!
What are three items every woman should have in her wardrobe?
Perfect denim, nude heels & a black trouser/pencil skirt.
Now it's your turn!
Ask the experts from Tog + Porter your own personal style questions.
What items are worth paying designers prices for? What colors/palletes are hot this summer? Anything you want to know – just ask! We'll follow up with your answers in a future post, so be sure to check back.