This post may contain affiliate links. Read my disclosure policy here.
On Thursday morning, at 6:30 am, I will be boarding a plane to fly to Fort Wayne, Indiana to attend Matilda Jane Clothing's Annual Art Fair — and I am thrilled.
Just a month or so ago, I had never heard of Matilda Jane Clothing, but I am now a fan (and customer) for life.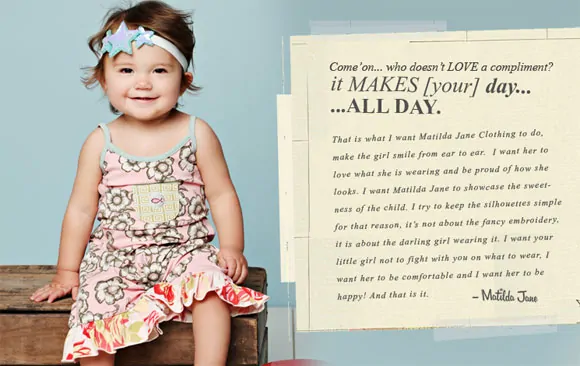 Within three seconds of landing on Matilda Jane's website, I fell in love. I immediately felt peaceful, inspired, and just plain happy staring at the ethereal photos of some of the most unique, beautiful clothes I had ever seen.
And two weeks later, when a box of Matilda Jane Clothing arrived at my door, my love deepened to a whole new level. Online, Matilda Jane Clothing looks fabulous. It is playful, colorful, and original.
But when you get to see the clothes in person and experience the incredible quality and detail, the rich fabrics, the perfect stitching, well it is indescribable.
I think most of us have become so used to sub-par quality when it comes to clothing, that when we see clothes constructed with the craftsmanship and care of Matilda Jane seamstresses, we are shocked.
Matilda Jane Clothing takes us back to a time when clothing wasn't mass produced and fabrics weren't chosen because they were the most inexpensive way to manufacture the most pieces.
Yet, it isn't just the quality of Matilda Jane Clothing that makes their pieces simply stunning. It is their creative, unique designs. There is just nothing else that looks like Matilda Jane.
I was running out the door to go to a doctor's appointment and after school carpool when my box of Matilda Jane Clothing arrived. I couldn't resist opening the box and pulling out each gorgeous item. And even though I was just going out for an average "mom" day of driving around kids, etc, I quickly whipped off the jeans I was wearing and put on the gorgeous Josie Skirt. (I couldn't resist taking this iPhone shot to FB while I was waiting in the doctor's office!)
The skirt made my whole day feel more fun, more special. And I got constant compliments and "where did you get that skirt?" questions everywhere I went. Matilda Jane Clothing is just that outstanding.
Art Fair in Fort Wayne, Indiana — June 22-23, 2012
Denise DeMarchis, founder and CEO of Matilda Jane Clothing (MJC), stays true to her roots with MJC's Annual 435 Art Fair.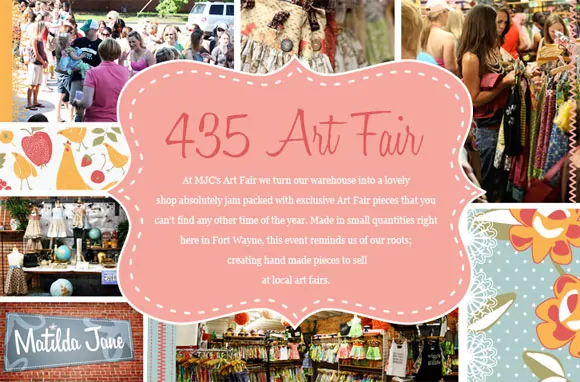 Before starting Matilda Jane Clothing at her kitchen table, Denise spent a decade showcasing her painted furniture and clothing line at regional art fairs. Now that MJC has grown into a national children's clothing business, Denise is committed to maintaining its core values of heart, loyalty and extreme generosity.
At 435 Art Fair, loyal MJC fans have the opportunity to meet the MJC staff, attend charming parties, and shop for exclusive pieces designed specifically for Art Fair.
If you live near Fort Wayne, Indiana — come join me at 435 Art Fair! It will be my first time and I would love to see you there.
Win One of Three $100 Gift Cards to Matilda Jane Clothing
Oh yes — we have some giveaway fun for you!
We have THREE prizes of $100 MJC Gift Certificates for three lucky 5 Minutes for Mom readers.
Written by Janice Croze, co-founder of 5 Minutes for Mom.
Please Note: This giveaway is a part of a promotional campaign with Matilda Jane Clothing. Clothing was also provided for review purposes. But, as always, my enthusiasm and opinions are ALL my own!
We want to get to know you better — Tweet with us: @5minutesformom, find us on Facebook: Facebook.com/5minutesformom, or join our newsletter list.