This post may contain affiliate links. Read my disclosure policy here.
Lolli here….
Every time I see a new Disney/Pixar movie, I am blown away. On Sunday night, I had the opportunity to attend a private screening of BRAVE at the Walt Disney Studios lot. There's a part of me that wants to end my review of BRAVE right there…simply blown away. Moved.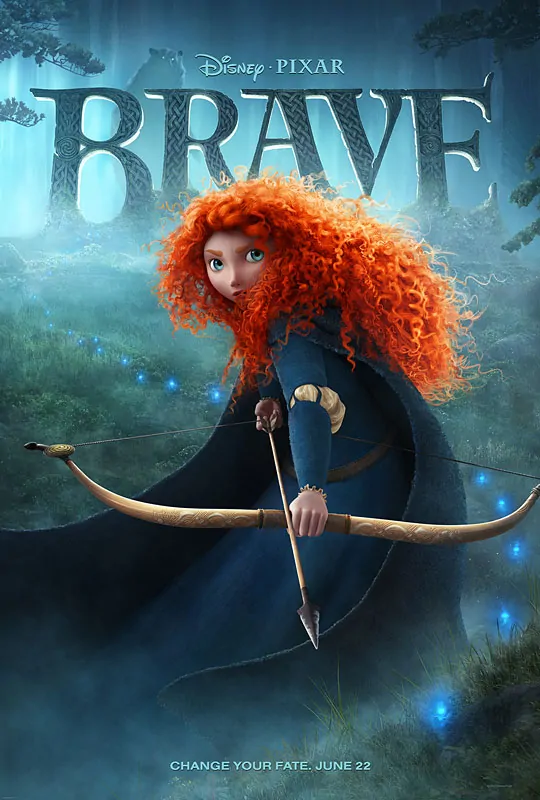 Because Pixar's style and incredible story telling never fails to impress me (and because I happen to love Scottish heritage and culture) I have been looking forward to this movie ever since it was announced.
Not only did BRAVE not disappoint, but it exceeded my expectations. The story line, the dialog, the music, and the animation were all top notch.
Why you should see BRAVE in theaters
Pixar and Disney have come together once again for a unique, emotion-filled movie.
BRAVE focuses on strong family values. I love that the mom and dad are married and both are alive!
This is Pixar's first movie with a female heroine.
Merida is a perfect addition to the Disney Princess line-up. She is strong, Brave, spunky, and knows how to follow her dreams.
The scenery is breathtaking, the music is stirring, and it's altogeher a treat for the senses.
What ages would enjoy BRAVE?
In the end, only a parent can determine what their children can handle. There are some scenes in Brave that may be scary for younger kids (under 7). In the movie, a spell turns Merida's mother into a massive bear. While the bear typically acts like Merida's mother, the queen, (which provides quite a bit of comic relief) there are a few scenes with the Queen/Bear as well as another older, angrier bear that could get too scary for the youngest viewers.
My kids (who are all over 7) would not be bothered by the action/adventure and the bear roars, but if your child is sensitive to that sort of movie, then you might want to hold off until it comes out on DVD.
On the other hand, a lot of parents ask me how THEY will enjoy a kids' movie, and my answer in this case is an unhesitating YES! Parents (and adults with no kids) will love BRAVE. There is plenty of tasteful humor that adults will love, as well as a touching story line that will keep moms, dads, grandparents, etc appreciating the movie from beginning to end.
BRAVE opens this weekend – on June 22, 2012. Watch the preview below, and then go enjoy BRAVE with your family!
Note: BRAVE photos and trailer courtesy of Disney/Pixar.
Check out my Frequently asked questions review of Brave on Better in Bulk.
Written by 5 Minutes for Mom writer, Lolli. You can find Lolli blogging at Better in Bulk and tweeting at @1momof5.
Disclosure: I am currently in Los Angeles covering the red carpet premiere of BRAVE, as well as activities related to the opening of Disney's Cars Land. Although my expenses for this trip are being paid by Disney, all thoughts on the movies and activities are my own.