This post may contain affiliate links. Read my disclosure policy here.
Lolli here….
Before I know it, I'll be boarding a plane on my way to Los Angeles for the red carpet premiere of Disney/Pixar's newest movie BRAVE (followed by some good, old fashioned Disneyland fun at the brand new Cars Land). Before I head out, though, I wanted to get YOUR feedback. What questions would you love to ask the voice talents and the director/producer of BRAVE?
Send me your questions and I'll be sure to say hi to these fabulous actors just for you!
I'll be interviewing Kelly Macdonald (voice of "Merida"), Kevin McKidd (voice of "Lord MacGruffin") and Craig Ferguson (voice of "Lord Macintosh"), and well as BRAVE Director Mark Andrews and Producer Katherine Sarafian and La Luna Director Enrico Casarosa.


The BRAVE/Cars Land Bloggers:
Here's the fantastic list of bloggers that will be attending the premiere and other events with me next week:
5MinutesForMom.com/BetterInBulk.net – Me!
AboutAMom.com – Angela
Babble.com – Sunny
BabyCenter.com/RookieMoms.com – Whitney
BabyGoodBuys.com – Marybeth
BudgetSavvyDiva.com – Sara
Deals4Dummies.com – Jeana
FunSavingMoney.net – Mellisa
HomeGrownFamilies.net – Melissa
HowToBeADad.com – Charlie
JustStopScreaming.com – Toni
MiscFinds4U.com/PrincessTimeToys.com – Connie
MommyGaga.com – Deanna
MomSpark.net – Amy
MomStart.com – Louise
MomTrends.com – Serena
MyKindaRain.com – Lori
RockinMama.net – Caryn
SimplyBeingMommy.com – Crystal
SouthernBellasWaysToSave.com – Kasandria
SurfAndSunshine.com/TrippinWithTara.com – Tara
TalkingWithTami.com – Tami
TheDaddyComplex.com – David
ThriftyJinxy.com – Chrysa
WheelNDealMama.com – Laura
Happy Father's Day from BRAVE!
As a fun, early Father's Day treat, here's a new clip from Brave:
Happy Father's Day to all of the Dads in your life!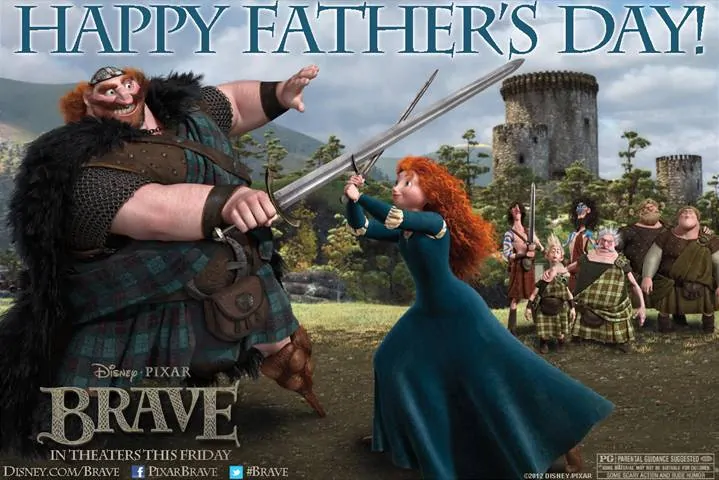 Connect with BRAVE:
facebook.com/PixarBrave
twitter.com/disneypixar
Disney.com/Brave
Disclosure: Disney/Pixar is flying me out to Los Angeles next week to cover the the red carpet premiere of BRAVE. Although I am receiving an expense-paid trip to LA, all thoughts are my own.