This post may contain affiliate links. Read my disclosure policy here.
Happy July 4th!!!
With today being Independence Day, we wanted to share these fabulous patriotic strawberries. Denise first found the idea for these colorful, beautiful berries on Pinterest along with some other fabulous Flag Day ideas and creative ways to use blueberries and strawberries.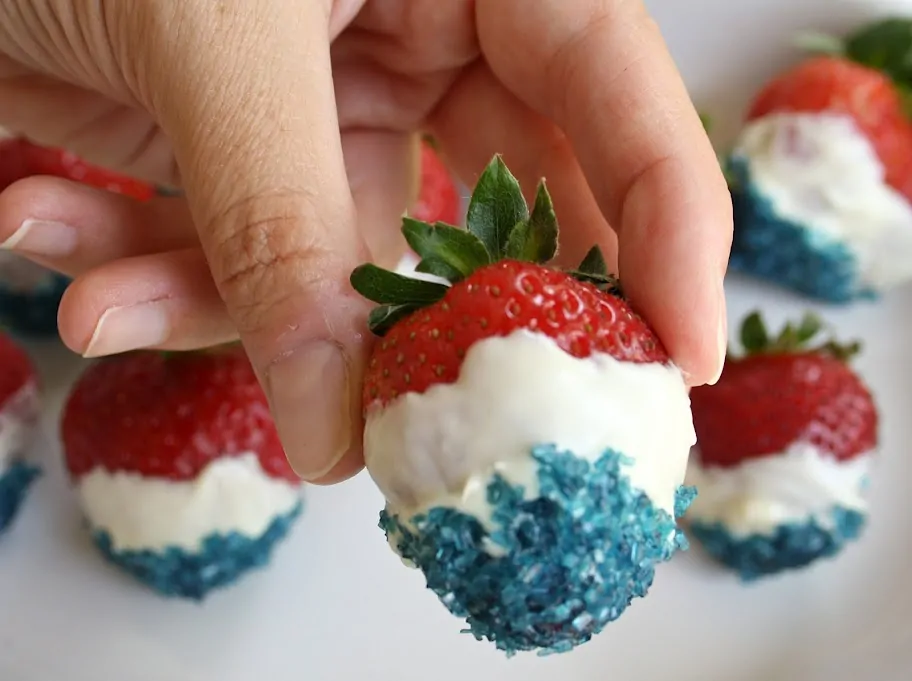 What would we do if berries weren't in season during the summer months in time for Flag Day and Fourth of July?  I suppose we could use frozen berries, but I don't think all our patriotic potluck dishes would look as pretty.  

Just look at how nicely these pretty little patriotic berries present too. You will wow your friends. 
Not only are these patriotic berries easy on the eyes and taste buds, they're also simple to replicate.  But I have to confess. I'm kind of a chocolate snob and therefore, I had to revamp the recipe with some good Ghirardelli white chocolate and then I had to make my own blue sugar sprinkles, because the blue had to be a bit darker. Sometimes I can be a little OCD like that, especially when I notice a lone dark blue sugar crystal in the middle of a white plate.  Oh well.  Hopefully, everyone will focus on the stripes and give three cheers for the red, white and blue.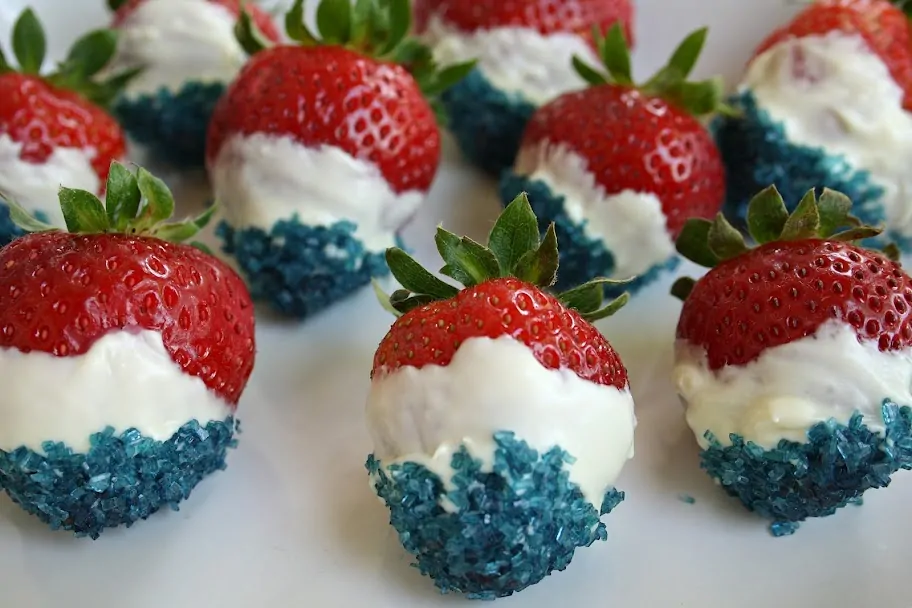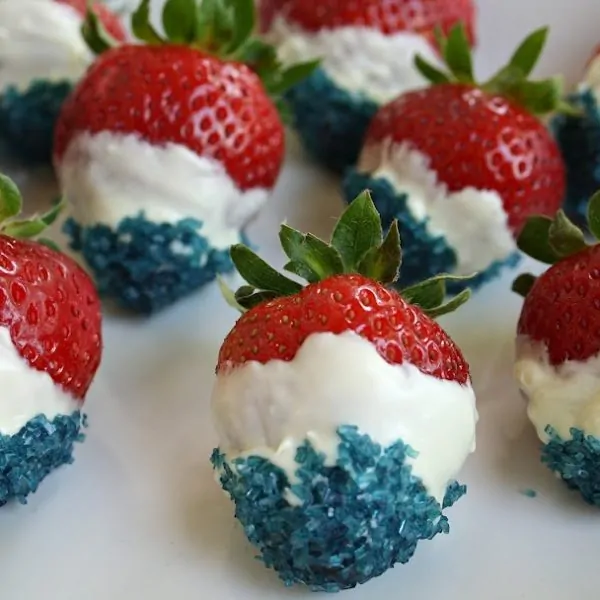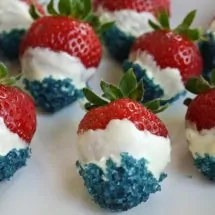 Red, White and Blue Strawberries
Red ripe strawberries dipped in white chocolate and blue sugar crystals.
Print
Pin
Rate
Ingredients
1 pint strawberries rinsed and dried
Ghirardelli white chocolate bar
White edible glitter
Blue food coloring
Instructions
Place edible glitter in a bowl sugar and add a few food drops of blue food coloring. For a darker blue, add a few more drops. Stir until sugar is evenly coated and a warm blue color.

In a double-boiler, bring 2 cups of water to a low boil and then lower heat. Break the white chocolate into pieces and place in warmed double-boiler. Stir chocolate until creamy and evenly melted.

Using a spoon, coat half the strawberry with the melted white chocolate. Then, dip the tip of the strawberry in the blue sugar or spoon sugar onto the strawberry.

Place on strawberry on baking sheet and repeat with others. Chill berries in fridge for about 10 minutes to allow the chocolate to set.
We originally published this post here at 5 Minutes for Mom for Flag Day on June 14, 2012. But we wanted to refresh and republish it again to celebrate July 4th.