This post may contain affiliate links. Read my disclosure policy here.
Lolli here…
There are several benefits to living in the Washington DC metro area as I do, and one of them is receiving special invitations to events like the Disney "Magic of Healthy Living" Press Conference this week. I was excited to go to the press conference, which was focused on healthy food options and advertising for children and families, long before I knew who the "special guest speaker" was going to be.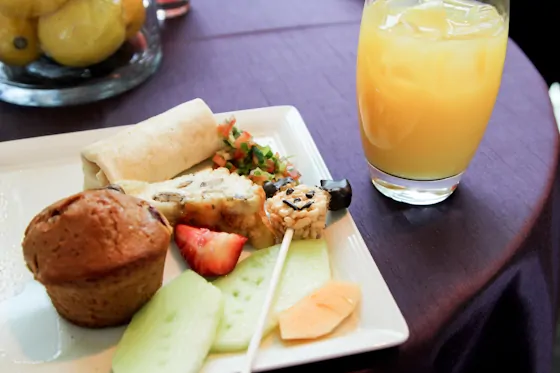 I never guessed that I'd be having breakfast with First Lady Michelle Obama.
I showed up at the Newseum on Tuesday morning to a conference room teeming with press. My camera was feeling mighty small. The tables were loaded with a colorful assortment of healthy foods, and Mickey himself was mixing up fruit smoothies with Disney Parks Chef Gary Jones and Chef Tom Blundell of Wolfgang Puck.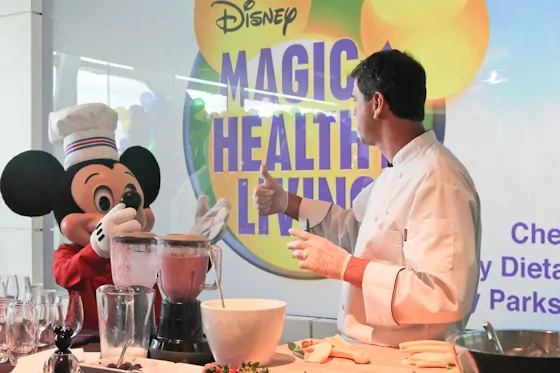 After mingling and grabbing some plates of food, we had the opportunity to hear Disney's Chairman and CEO, Bob Iger, explain the new standards that the Walt Disney Company has set for food advertising to kids.
Disney's Magic of Healthy Living
As of June 5, 2012, The Walt Disney Company became the first major media company to introduce new standards for food advertising programming targeting kids and families.
Under these new standards, all food and beverage products advertised, sponsored, or promoted on the Disney Channel, Disney XD, Disney Junior, Radio Disney, and Disney online destinations targeted to families will be required to meet new guidelines promoting fruit and vegetable consumption and limiting calories, saturated fats, sodium, and sugar.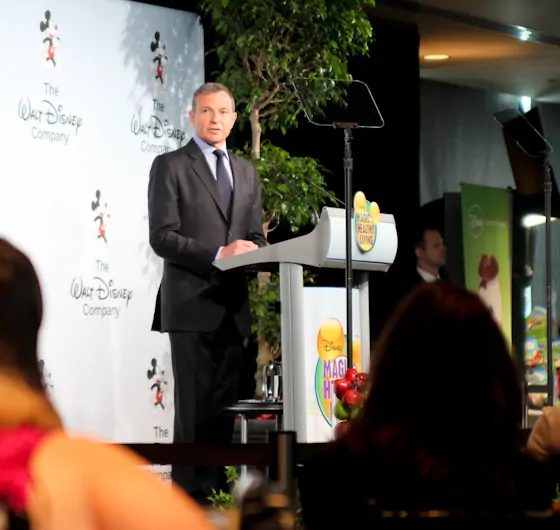 Robert Iger said, "We've taken steps across our company to support better choices for families, and now we're taking the next important step forward by setting new food advertising standards for kids. The emotional connection kids have to our characters and stories gives us a unique opportunity to continue to inspire and encourage them to lead healthier lives."
First Lady Michelle Obama: "Is it good for our kids?"
The First Lady was the portrait of class, and yet I felt like she was just another mom talking about what was good for her kids. She is obviously a concerned mother, and I love that she has joined in support of Disney's new healthy living guidelines.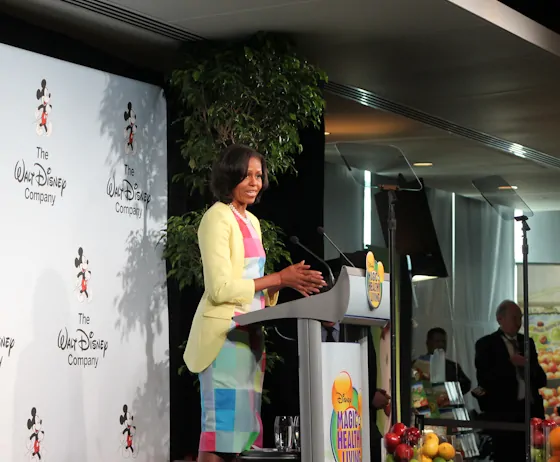 Regarding Disney's new initiative, First Lady Michelle Obama said, "This new initiative is truly a game changer for the health of our children. This is a major American company – a global brand – that is literally changing the way it does business so that our kids can lead healthier lives. With the new initiative, Disney is doing what no major media company has ever done before in the U.S. – and what I hope every company will do going forward. When it comes to the ads they show and the food they sell, they are asking themselves one simple question: 'Is it good for our kids?'"
The idea is simple – Is it good for our kids? I love that the Walt Disney Company is taking steps toward making the answer to that question "YES" much more often.
If you'd like to see more photos and details about the press conference, including a video I shot of Michelle Obama's speech, visit my blog post over at Better in Bulk or check out the event album on my Facebook page.
Written by 5 Minutes for Mom writer, Lolli. You can find Lolli blogging at Better in Bulk and tweeting at @1momof5.
Disclosure: I was invited by Disney to attend this press conference and breakfast as a local blogger, where I was fed wonderfully tasty and healthy food. I was not compensated in any way for this post.