This post may contain affiliate links. Read my disclosure policy here.
Jennifer here-
About a month ago I stepped on the scale and almost had a fit when I saw that I had gained back 7 of the 10 pounds I had worked so hard to lose the previous month. I will be honest when I tell you that I cried. I don't like gaining back weight that is really hard for me to lose.
Anyone else feel the same way?
Recently, we were contacted by Zaggora about trying out their product, Hot Pants.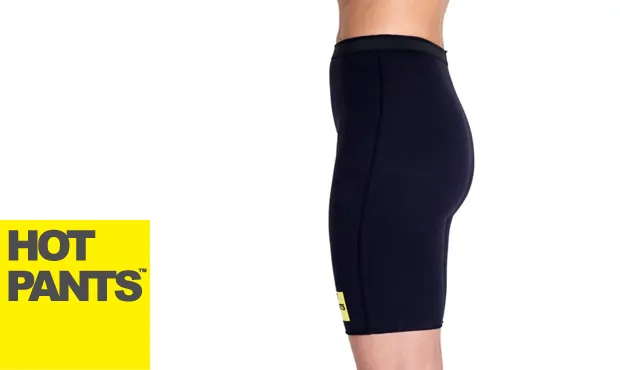 How Do Hot Pants Work?
HotPants increase energy expenditure during excercise by 6% versus the control garment. HotPants increase energy expenditure in the hour after exercise by 26%*.
In 30 minutes of exercise, weight loss is around 4x greater in HotPants than in a standard garment. On average, subjects lost 1.13% of body mass in HotPants compared to 0.27% in the control garment.
HotPants increase the core body temperature by an average of 18% more than the control garment, which leads to an increase in metabolism.
I was a little skeptical at first thinking, How can a pair of pants make me lose weight? I will be the first to tell you that when you work out in Hot Pants, OH-MY-WORD — you sweat a lot! I noticed right off the bat that within just a few minutes of starting my jog on the treadmill that I was sweating.
The good thing about these pants is that they are very easy and comfortable to work out in. They were easy to get on and easy to get off even though I was sticky from sweating during my work out.
Hot Pants come in colorful Viva Pants, Capri Flares, Short Hotpants, or Nude Hotpants
Prices start at around $45.
You can connect with Zaggora through
Enter to win 1 of 5 pair of Hot Pants
We are giving away 5 pairs of Hot Pants. Use the Rafflecopter below to enter this giveaway. Remember, the more ways you enter, the better your chances are of winning.
 I was sent a pair of HotPants in order to write this review. All opinions listed are my own.
Written by 5 Minutes for Mom Advertising and Communications Contact, Jennifer. You can find her sharing her thoughts at her own blog Jen's Journey. Connect with her on Facebook and Twitter.