This post may contain affiliate links. Read my disclosure policy here.

Jennifer here-
My favorite on-the-go snack is Lance Crackers. I'm not just saying that to get you to buy them. I really love the flavors in their snack crackers. They have been a part of my family's snack options for years.
In fact — hubby's favorite is Cream Cheese and Chives, my son's favorite is the Peanut butter, my daughter's favorite is the whole grain (she is the healthy eater in the family), and my favorite is the peanut butter and honey.
Lance recently sent me a huge thank you gift box in the mail full of all of our favorite Lance Snack crackers as well as a few fun Madagascar 3 branded items to have fun with. We have had tons of fun in the evening doing Mad Libs– you can never get too old for those!
The cool thing is this — we're pumped about getting to go see Madagascar 3 on June 8th when it comes out in the theaters. Lance is sending us so we can enjoy some family time together ( I might even sneak a few packs of Lance crackers in my bag to munch on during the movie — shhhh!)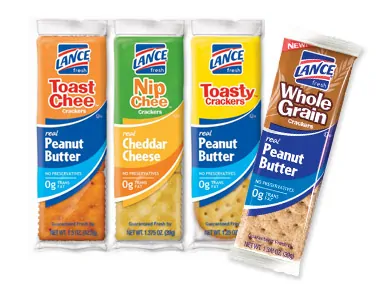 Enter to win a Lance Snack Cracker and Madagascar 3 Prize Pack
Lance Snack Crackers and Dreamworks have partnered together to bring awareness to the wholesome and delicious flavors of snacking on the go. One 5 Minutes for Mom reader is going to win a prize pack full of goodies ($60 value) from Lance Snack Crackers PLUS movie tickets for 4 to see Madagascar 3 when it comes out June 8th.
Use the Rafflecopter below to enter the giveaway. Remember that the more ways you enter, the better your chances are of winning.
I was sent a prize pack of goodies from Lance Snack Crackers. All opinions listed are my own.
Written by 5 Minutes for Mom Advertising and Communications Contact, Jennifer. You can find her sharing her thoughts at her own blog Jen's Journey. Connect with her on Facebook and Twitter.