This post may contain affiliate links. Read my disclosure policy here.

Lolli here…
The fact that I love baked goodies should come as no surprise to those of you who know me…but I don't always love the time that it takes to make them at home. I've always been a fan of rice crispy treats, both for the taste and for the ease of making them. Rice crispy treats are one of the least complicated and quickest desserts that you can make, and are always a crowd favorite.
I recently discovered flavored rice crispy treats – a revolutionary idea! – and have been trying all sorts of varieties of the classic stand-by treat (my kids and I have fallen in love with cinnamon roll rice crispy treats). This past week, I needed to bring a treat to a Mother-Daughter activity with my 9 year old daughter, and figured I'd try some Cookies and Cream Rice Crispy Treats. They were a hit!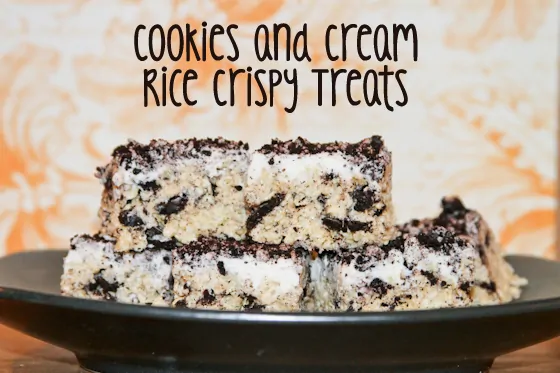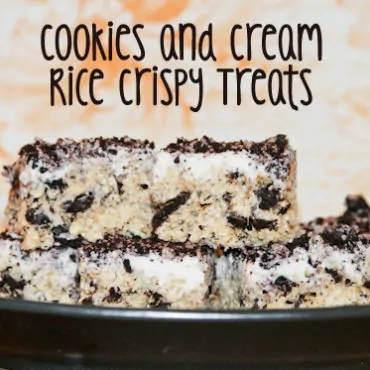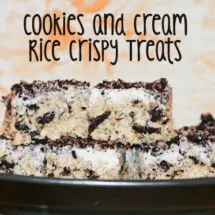 Ingredients
1/4 cup 1/2 stick butter
1 10.5 oz bag mini marshmallows
6 cups Rice Krispies cereal
12 chocolate wafer cookies Oreos, chopped (about 1 cup)
6-8 chocolate wafer cookies chopped into bits (about 1/2 cup)
Instructions
Butter a 9 x 13 pan; set aside.

Melt butter in a large saucepan over medium heat.

Pour marshmallows into the melted butter and stir constantly until melted. Remove from heat and gently stir in Rice Krispies cereal (a little at a time) until evenly coated.

Fold in 1 cup chopped chocolate wafer cookies.

Transfer mixture into buttered baking pan.

Using a buttered spatula or greased hands gently press mixture evenly into dish. Set aside.

Cream the butter and shortening with a hand mixer until fluffy.

Add vanilla and beat in the confectioners' sugar, a cup at a time, until desired consistency is reached.

Spread frosting over the rice crispy treats and sprinkle with the remaining chopped cookies.

Cut treats into squares and serve.

Written by 5 Minutes for Mom writer, Lolli. You can find Lolli blogging at Better in Bulk and tweeting at @1momof5. If you liked this recipe, be sure to check out the cinnamon roll rice crispy treats, too!