This post may contain affiliate links. Read my disclosure policy here.
Do you work?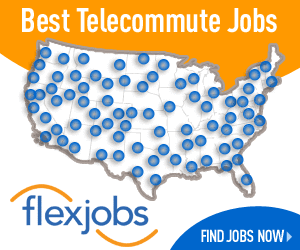 It's a question that one mom often asks another when meeting for the first time at a child's birthday party, at church, or at the park. It's also a question that doesn't always have a solid "yes" or "no" answer (beyond that stay-at-home mantra "Every mom works."), because many of us consider ourselves stay-at-home moms, but do some online writing or are trying to make our blogs a business.
Perhaps you haven't had the need or desire to work, because you've been busy with babies and preschoolers, but sometimes factors come into play that leave us looking for more — more money or a way to fill your time that will benefit yourself and your family, such as
A financial need — nothing gets us thinking of ways we can make a few bucks than a husband's job loss, or braces, or needed home repairs
A change in family status — maybe your youngest child has entered school full time or death or divorce has left you as the only wage earner
Do you want a flexible job?
FlexJobs is a website that lists jobs that are flexible — either part-time, telecommuting, or freelance.
Get new listings daily for work from home positions, part-time hours, contract jobs and more from entry level to executive in 50+ professional fields from accounting to marketing to medical and everything in between.
FlexJobs is the award winning, leading job service site for finding a flexible job.
Perfect for moms, dads, caregivers, military spouses and anyone who wants a job that fits their lifestyle.
Join FlexJobs and find your next job!
For $49 a year, you will have access jobs in many fields. They are currently listing 9,671 jobs from 3,356 companies.
Each job is researched and reviewed by FlexJobs' staff to avoid any scams, ads or too good to be true offers. FlexJobs' researchers guarantees each job is a legitimate position from a reputable company both small to large, like IBM, Citi, AT&T and more.
Get resume tips, skills testing, exclusive member discounts, daily job finding tips and more!
Whether you are working or not, your time is money. If you use FlexJobs, you can be assured that these are real jobs that have been reviewed, so that you are only reading and applying for genuine opportunities.


Disclosure: This post contains affiliate links.
Written by Susan Carraretto, co-founder of 5 Minutes for Mom
Talk with me: @5minutesformom and Facebook.com/5minutesformom
Pin with me at http://pinterest.com/5minutesformom/