This post may contain affiliate links. Read my disclosure policy here.
My twins are obsessed with their HoodiePet since it arrived in the mail last week.
HoodiePet is a snuggly fleece hoodie with a plush cuddly toy that attaches with Velcro to the front pocket of the hoodie. With six solid colors to choose from – plus two new patterns in Zebra blue and Cheetach pink – my guys picked the blue hoodie.  Let me tell you it is so soft and warm!
There are 11 different HoodiePet Friends to choose from.  We got 'Screamie the Ape'.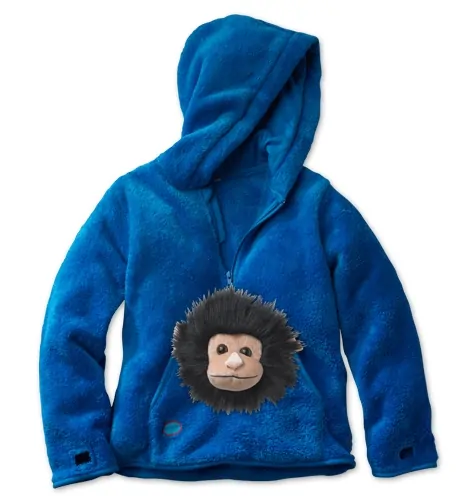 The best part is that the HoodiePet friends are collectable and interchangeable, making them great for trading too! Each friend has its own personality and story, making it not just an item of clothing, but an imaginative toy encouraging play.  You can even get online with your child to learn more about the planet's animal kingdom. It's the perfect place for your child to lose themselves in imagination and creativity. The easy-to-navigate site has a place for your child to name their HoodiePet, print out adoption certificates and coloring pages for each pet, and learn fun facts about each animal on HoodiePet Island!
HoodiePet allows your child to carry his or her favorite HoodiePet Friend everywhere because it attaches right to the hoodie.  My guys decided they liked it better attached to their sleeve rather than the front pocket, which works too.  I love that this is a toy that is not getting lost.  My guys are always leaving something behind.  Stick it on and its all set!
Sizes are geared for boys and girls, ages 1 to 10 years old.  I should mention that while my 6 and a half year old was in love with the HoodiePet at home, he wasn't so sure about wearing it to Kindergarten and declined which surprised me.  My nearly five year old twins however, were all over this… and still are.  They love taking turns wearing it to Pre-K and I am debating on buying another hoodie and a few more pets so they don't have to share the one anymore.
Check out HoodiePet today!  Follow up with Hoodie Pet on their website or on Facebook.
Enter to win a Hoodie Pet of Your Choice
Use the Rafflecopter below to enter this giveaway. Remember that the more ways you enter, the better your chances are of winning.
Written by Liza. Liza is a mom of three boys – a five year old and four year old twins. On her personal blog, Cira's Lyrics, she writes about family, chaos and day to day happenings. She also writes reviews at Buy-Her where she focuses on fashion, beauty products, and more. Connect with Liza on twitter at @Liza_Rae.