This post may contain affiliate links. Read my disclosure policy here.

When the world wakes up from winter, I start craving cool, fresh things like salads and smoothies. I also cringe because frequent leg-shaving weather is fast approaching, but the sight of a smoothie like this Mango-Berry Swirled Smoothie quickly reminds me that the extra 10 minutes in the shower is well-worth the extra sunshine.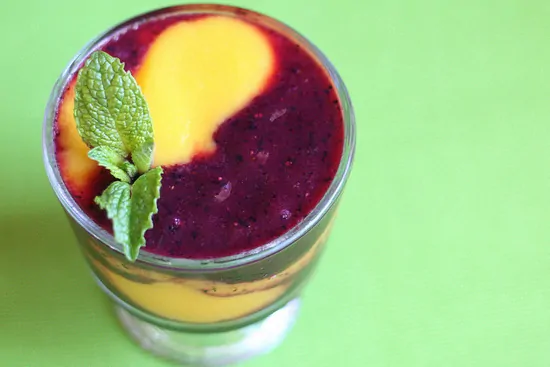 My two little girls are fruit fiends. They're also very girly and enjoy "fancy" things, so you can imagine their delight when we whipped these up one sunny afternoon. We're all about fancy at our house, and it's only going to get fancier with baby girl #3 arriving in June! If she ends up loving fruit as much as her sisters, she'll fit right in.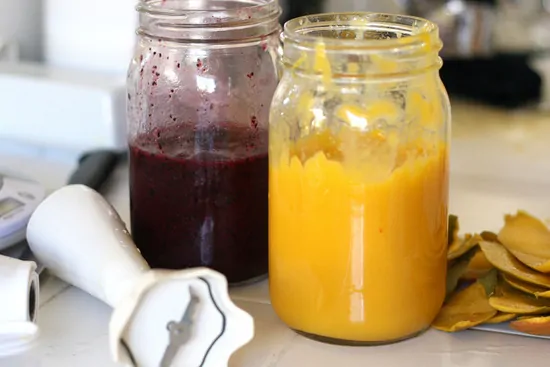 Did I mention there are only five ingredients in this entire recipe? There is also no sugar or dairy!
Just whip up two smoothies and blend them together in a fancy cup. It's easier than it looks — much easier if you have an immersion or stick blender. I figured out, during this experiment, that my immersion blender fit inside of a quart-sized mason jar. No dragging out and having to clean the blender twice!
If you don't have an immersion blender, go out right now and get one. They're so handy for smoothies, pureed soups and sauces. You'll wonder what you ever did without one.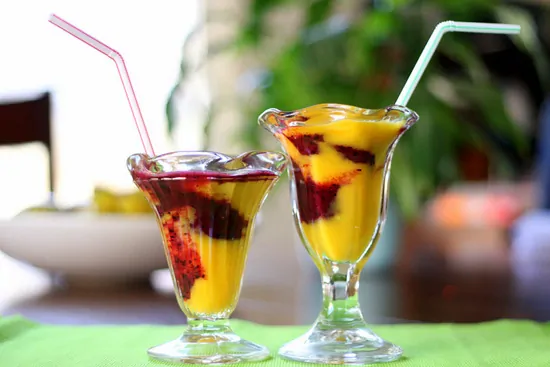 You could sneak even more nutrients into these smoothies if your kids are picky about their vegetables! Spinach, beets, or carrots would work well in the berry smoothie and a little pureed squash or sweet potato could hide out in the mango smoothie.
We hope you enjoy these as much as we do! What's your favorite afternoon snack when the weather gets warm?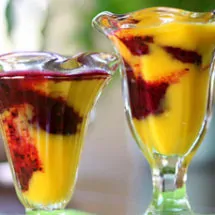 Mango-Berry Swirled Smoothies (Dairy-Free)
Two brightly-colored smoothies are swirled together to make one, delicious afternoon snack (or breakfast)!
Print
Pin
Rate
Servings: 4
Ingredients
Smoothie #1:
1 cup fresh or frozen blueberries
1 cup fresh or frozen strawberries 4 or 5 large ones
1 cup 100% pomegranate juice plus more if necessary
Smoothie #2:
2 mangoes peeled and pitted
juice from 1 orange about 1/2 cup
Instructions
If you have an immersion blender, place the ingredients for each smoothie into its own quart-sized mason jar or a really large cup. Blend one smoothie, rinse off the blender, then blend the other.

If you're using a blender, blend smoothies one at a time, rinsing the blender between uses.

Pour the smoothies together into serving cups, creating a swirled effect.
Notes
Nat's Notes:
1. You may need to add a little sweetener if your fruit isn't fully ripe. I used frozen blueberries and strawberries and they were very sweet. 2. If it's sweet enough, but tastes a little flat, try adding a squirt of lemon or lime juice to brighten it up.