This post may contain affiliate links. Read my disclosure policy here.
Lee from Foodie Plus 4 has a delicious spring recipe for you…
With petals unfurling and leaf buds bulging, spring is slowly making its way to my corner of the northeast. And with it comes an abundance of spring vegetables, my favorites being asparagus and leeks.
I've been chewing stalks of asparagus since I could walk, but my love of leeks didn't come so easily. Many years passed in my kitchen without me so much as touching a leek. If a recipe suggested leeks, I would either skip it or grab a bunch of the leek's more common cousin, the scallion (also known as green onion).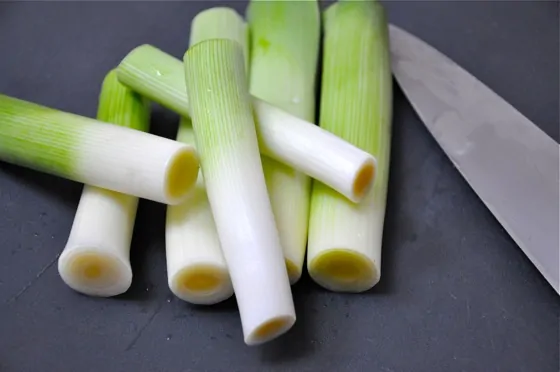 But when my four little foodies insisted I recreate a favorite restaurant soup that contained leeks, I figured I must persevere. And I found that these clumsy overgrown onions actually have a much more demure personality than their smaller relations. When cooked, leeks add a soft sweet layer of onion flavor that pairs perfectly with soups and warm pastas.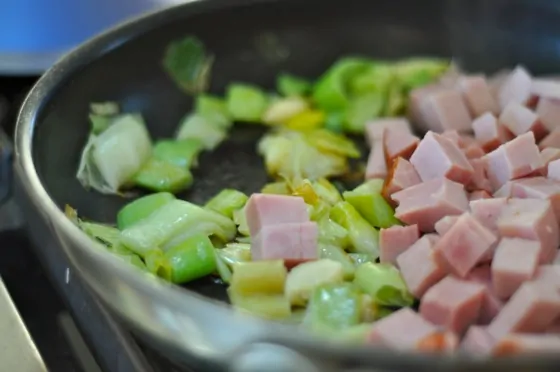 For this dish, I chose a type of pasta with slight ridges (that's what the "rigate" means) so the cream sauce would hold on to the pasta instead of puddling at the bottom of the serving bowl. And for those who don't like the chore of cleaning those sandy leeks, visit your grocer's freezer. I was delighted to find frozen sliced leeks at Trader Joe's, so there may be other stores out there that stock them.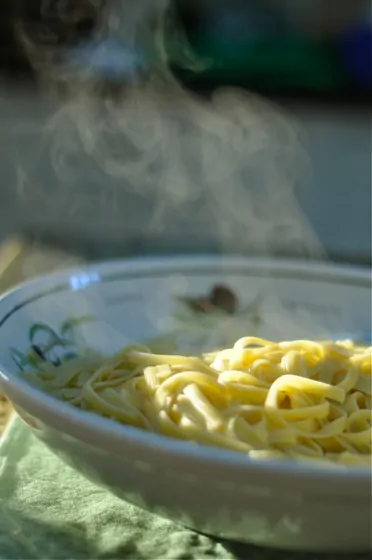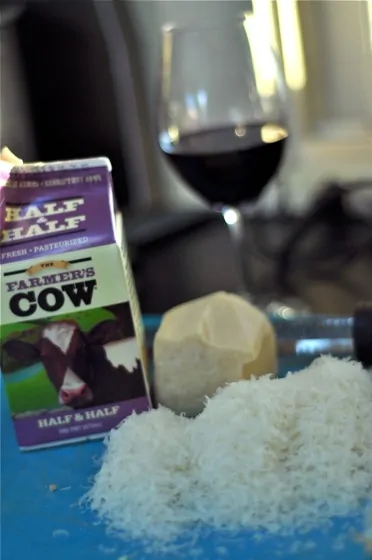 With the pink ham and bright green peas and leeks, this tasty and light pasta helps you put the colors of springtime on your table, even if it's not quite in full bloom outside. Enjoy!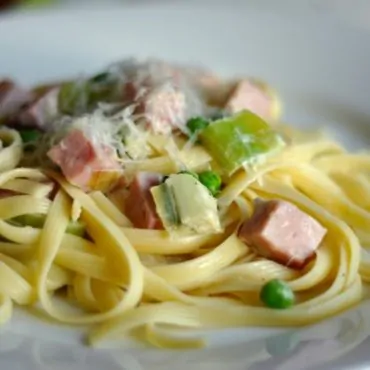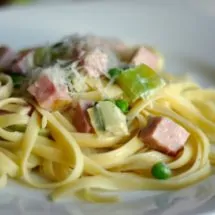 Ingredients
1 pound fettucine rigate pasta
2 Tbsp. olive oil
2 Tbsp. butter
2 medium leeks trimmed of roots and dark green, washed and sliced into ½-inch rings (substitute: 1 cup scallions/green onions)
1 cup frozen green peas
4 Tbsp. chicken broth or water
1½ - 2 cups diced ham
3/4 cup heavy cream I used half and half for a lighter version
3/4 cup finely grated Parmesan cheese
Salt and pepper
Instructions
Cook the pasta according to the package directions, usually about 10 minutes in salted boiling water.

While pasta is cooking, heat olive oil in a medium saucepan over medium-low heat. Add prepared leeks and cook about 4 minutes, until leeks are bright green or translucent and softened.

Stir the frozen peas, ham and broth or water into the pan and cook 3 more minutes. Add the cream, bring to a low simmer and cook 4-5 minutes.

While cream mixture is simmering, drain the pasta and place in a large serving bowl.

Stir butter into the cream mixture over low heat until melted. Stir in the cheese.

Pour the sauce over the fettucine and toss. Season with salt and pepper. Serve with shredded Parmesan.
Notes
If using fresh leeks, be sure to cut off the tough upper greens. Also, for easier cleaning, split the leeks down the middle and rinse between the layers to get out any sand.