This post may contain affiliate links. Read my disclosure policy here.
My family loves to eat breakfast. It doesn't matter what time of day it is, it is always time for breakfast. This recipe is one of our family favorites. Such a fast and simple recipe, it works well for a brunch or a last minute meal idea.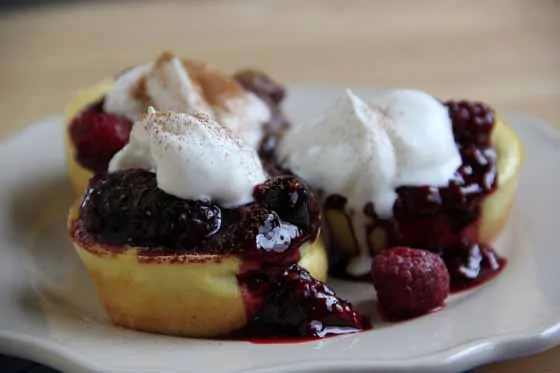 These little egg pancakes are not only delicious, but so easy to make. The batter climbs the sides of the muffin tins as it bakes leaving the perfect place to spoon fresh fruit or berry sauce and whipped cream.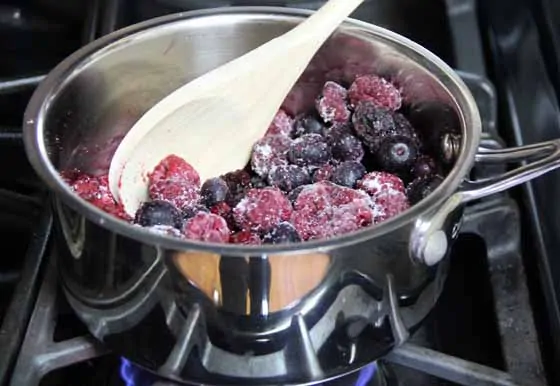 I usually fill our little pancakes with seasonal fruit, but one quick solution for anytime of year is a bag of mixed frozen berries.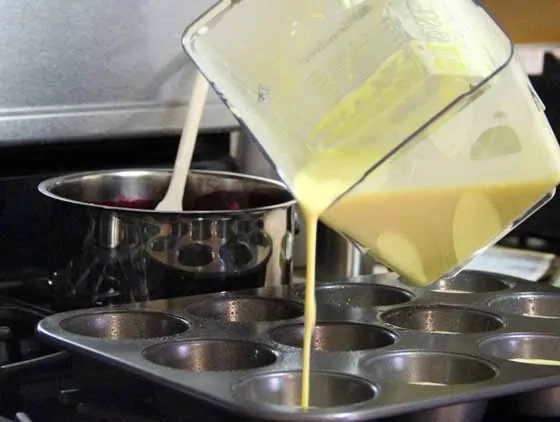 No special equipment is required. Just a greased muffin tin and a blender will yield these tender little cups.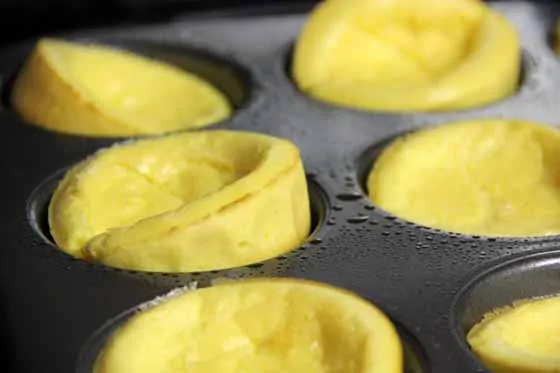 My children love watching them bake in the oven. The batter climbs up and the middles sink. What will you top yours with?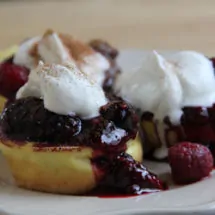 Ingredients
1 cup milk
1 cup flour
6 large eggs
1/4 cup unsalted butter melted
1 teaspoon vanilla extract
1 dash of salt
2 cup mixed frozen berries
1 tablespoon sugar
1 1/2 tablespoons cornstarch dissolved in water
whipping cream as desired
Instructions
Preheat oven to 400 degrees.

Grease 24 muffin tins.

Put the milk, flour, eggs, melted butter, vanilla extract and salt in the blender and mix well. Scrape down sides as necessary.

Pour batter into greased muffin tins. They should be no more than 3/4 full.

Bake for 15 minutes. They should be puffy and golden on top.

Wait till they are cool enough to handle, then pop them out to serve.

While the pancakes are in the oven, Put the frozen berries and sugar in a heavy bottomed saucepan. Bring it up to a simmer.

Stir in the cornstarch and let the mixture thicken. Stir frequently to prevent burning.

Top popovers with berry mixture and a dollop of whipped cream.