This post may contain affiliate links. Read my disclosure policy here.
Lolli here…It's not every day that I get to spend 30 minutes with Prince Charming, although I'm sure the boys in my house would argue with that.
Last week, I was able to speak with Armie Hammer, the absolutely charming actor who plays Prince Alcott in the upcoming movie Mirror Mirror. He was down-to-earth, personable, and downright funny. Here are some of the things we talked about…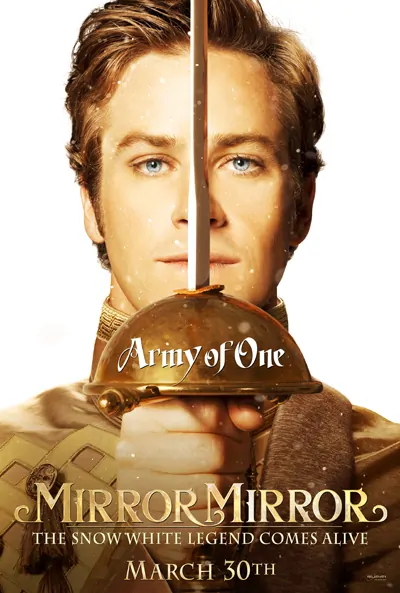 On working with Julie Roberts and Lily Collins
What can you tell us about what it was like to work with not just one but two intelligent and beautiful actresses, Julia Roberts and Lily Collins?
It was a treat. It was amazing. I consider myself very fortunate to get to work with Julia and Lily, like you said, both very intelligent actresses. And especially seeing Julia, who has gotten to do this for a longer period of time than either of us, Lily or myself, to get to watch her and see how the experience has sort of accumulated.
It's really interesting watching her work and watching (director) Tarsem work and getting to use them as role models and think, "Wow, I'd like to get that good one day."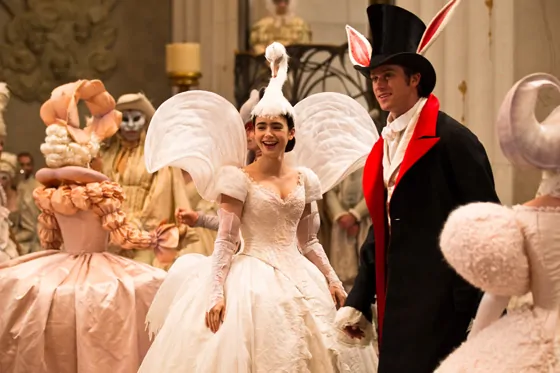 On dressing in a bunny ear costume
What was your initial reaction when you saw some of the crazier costumes like the top hat with the bunny ears (and when you were told you had to wear it)?.
I think honestly my initial reaction is, "You really want me to wear that?" But, when you're standing on that set and you are looking at the extravagant nature of everything, the costumes fit in. They make sense. It's not like you'd look at the costumes and go, "How bizarre."
But, when you're in New York City and you're standing in a fitting room with a wardrobing lady and several tailors and you're standing in a room with a bunch of fluorescent lights and you look at yourself in a mirror, you just kind of go, "Really? I mean, really,".
But, then, you get on the set and it all fits in perfectly with the visual. All of the walls are painted specific colors depending on which character was going to be shooting scenes in there the most. And, the colors were chosen depending on which colors would react best for the colors of the wardrobe on the camera. Everything was completely thought through in a very meticulous kind of way.
So, you kind of have to suspend your initial hesitance and just go for it. And it ended up really working out.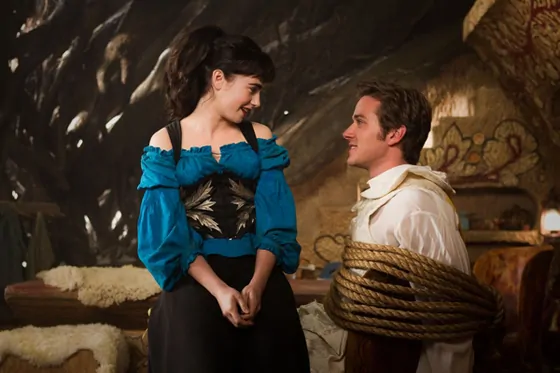 On being a prankster
One thing I have heard from readers is that you're famous for playing pranks. Were there any pranks played on the set of Mirror Mirror?
There was one that we were trying to set up but, bless them and to their credit, the Montreal Police Department had too much self-respect to play along. But, I wanted to have one of the guys on the set arrested for, I don't remember what the excuse was. But, that one didn't end up working out.
But, I think I've mentioned before that there was no snow on the sets we were filming on. It was all salt and we were filming indoors, and it was hot. It looked and felt like you were on top of a mountain including the crunch of the snow under your feet and all that. But, it was about 90 degrees in there and everyone was wearing these really elaborate costumes, including myself. I was wearing this giant leather trench coat. It was just hot, hot, hot.
The salt just smelled so bad. And once the salt had reached this really sort of acrid, rancid point, I just took a bunch of it and I filled Marty Klebba, he's one of the guys who plays one of the dwarves, I filled his trailer.
There was a scene where there was fish and he [Marty] actually was rubbing a fish on my face. So, I took a bunch of fish from props and filled his bathroom full of fish, and left and closed all the windows and left the heater on so that on a hot summer day it would just really, really, really just cook those fish in his bathroom. So, there were several fun incidents that happened.
Why should families go see Mirror Mirror this weekend?
Why do kids (and parents) need to go and watch Mirror Mirror?
I would say kids should go watch Mirror Mirror because the more successful the movie is, the more likely there is a chance of getting more good kids' movies out there. This is great family entertainment, and they don't make a lot of movies like that.
So, it's nice that there's something that you can go with your grandparents to and not be embarrassed at any point. Go enjoy a good, fun movie…or else.
See Armie Hammer talk about playing Prince Charming in this clip:
See more about Mirror Mirror

'Like' Mirror Mirror on Facebook
Visit the official website to watch the trailer & grab free downloads!
Follow Mirror Mirror on Pinterest for behind the scenes photos and more!
Written by 5 Minutes for Mom managing editor, Lolli. You can find me blogging at Better in Bulk and tweeting at @1momof5.
Note: Photos and press day experience courtesy of Relativity media