This post may contain affiliate links. Read my disclosure policy here.
Have you ever wished you could KILL some of your most stubborn fat cells, destroy those bulges on your body that you can't seem to touch with diet and exercise???
Well, like most of you, I have those places on my body where fat collects and, despite my best efforts, just won't go away.

So, this summer, I was excited when I heard about CoolSculpting® by ZELTIQ — a safe, effective and non-invasive way to reduce fat by cooling and destroying fat cells in common trouble areas that tend to be diet and exercise resistant.
At first, I was skeptical of course! But researchers at the Wellman Center for Photomedicine at Massachusetts General Hospital in Boston, a teaching affiliate of Harvard Medical School, developed the patented technology behind CoolSculpting and it is safe and FDA-cleared.
Yes, that was enough for me baby! I wanted to try this CoolSculpting myself and find out how it would work on my body.
My Experience with Coolsculpting
A few weeks ago, I visited Dr. Jean Carruthers for my consultation and Coolsculpting treatment.
Dr. Carruthers and her team were fabulous — not only were they extremely helpful and informative, but they were a ton of fun. I had a blast with them!
My nurse Sherisse (you can find her on Twitter as @Sherisses) was fantastic. She did a perfect job and we had a great afternoon together, talking about Twitter as she expertly maneuvered the Coolsculpting machine and performed my treatment.
(If you are in the Vancouver Lower Mainland, I HIGHLY recommend Dr. Carruthers and her team for your cosmetic treatments. I loved them! You can find them online at www.Carruthers.net)
Did Coolsculpting Hurt?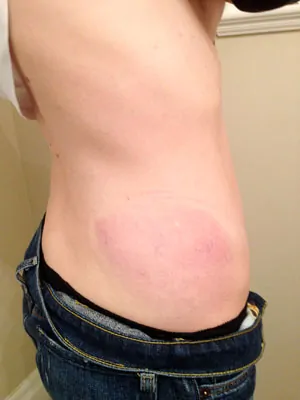 In all, the treatment was not too painful and I was out of the office and back to regular activities immediately.
There was some redness, puffiness, soreness, and bruising on the treated areas, but these all disappeared within a few days. The only lingering effect of the treatment is a slight numbness in the skin at the treatment sites. This numbness is minimal and doesn't bother me at all. It just feels a bit strange. It will eventually go away and is noted as one of the side effects in the CoolSculpting disclaimer
Have I Seen Any Results from my Coolsculpting Treatment?
The results of CoolSculpting® can be seen as early as three weeks with the most dramatic results after two months. It has only been a few weeks since I had my treatment, but I have seen some difference in my treated areas.
It is still hard to tell how much at this point, so it will be interesting to see the before and after photos when I return to Dr. Carruthers to follow up in a couple months.
Coolsculpting LIVE
During my CoolSculpting® treatment, I turned the camera on myself to show you how it is done — and how easily, quickly and painlessly too!
*Please Note: CoolSculpting is not intended as a weight-reduction program or for overweight individuals. The best CoolSculpting candidates are near their ideal body weight with bulges of diet- and exercise-resistant fat.
It is my responsibility to share with you that CoolSculpting is cleared for non-invasive fat reduction in the United States for the flank region, and internationally for the entire body. When consulting with patients, physicians are allowed to prescribe medical treatment in an off-label manner. Any references I may make to off-label treatment areas are not endorsed by CoolSculpting or ZELTIQ.
Take Part in the Let's Get Naked Campaign and You Could Win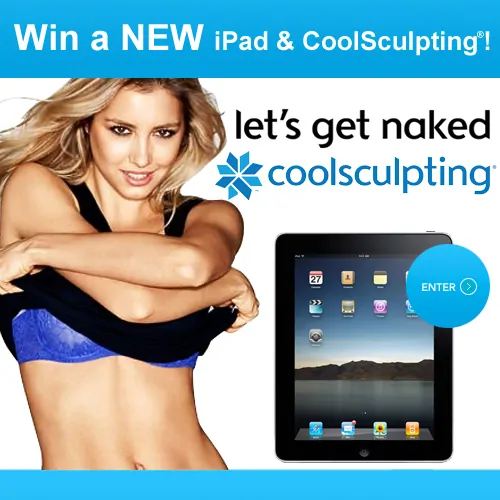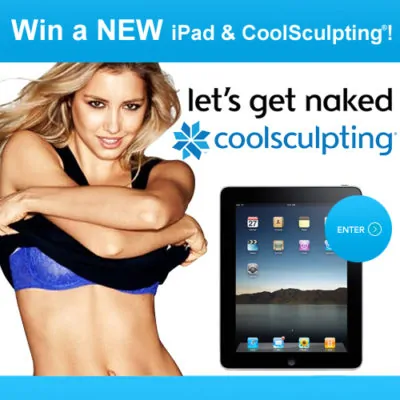 Head on over to the Let's Get Naked campaign and enter to win a CoolSculpting treatment and a new ipad!
This post is part of a sponsored campaign with CoolSculpting. As always, our opinions are 100% our own.
Written by Janice Croze, co-founder of 5 Minutes for Mom.
Wanna chat? Find me at: @5minutesformom, @janicecroze and Facebook.com/5minutesformom.