This post may contain affiliate links. Read my disclosure policy here.
I loved picking out mobiles for my boys cribs! I loved the way the little animals hung over their heads and slowly spun around. However, there was one thing I didn't love. Cranking it up to play one song and having to run back in to do it all over again when one of my guys cried because he wanted to hear more. I always wished they played music longer.
If I ever end up having that fourth baby we go back and forth about, I will be making my mobile purchase from Tiny Love. Their Soothe 'n Groove Mobile is the answer to what I had always been looking for, but could never find when my guys were smaller.
From Tiny Love website:
Tiny Love®'s award-winning mobiles redefine the mobile category by combining a wide variety of engaging stimuli that encourage and promote development. Captivating movements and carefully selected musical tunes challenge and enrich your baby – emotionally and intellectually. The soothing music and engaging movement create just the right ambiance for your baby's sleep.
The Soothe 'n Groove Mobile plays 6 different music categories with 18 tunes. The categories are jazz, world, nature, classic, lullaby and white sound. That's 40 minutes of music that does not repeat!
The part I love even more? It grows with your baby! As soon as my guys got just big enough to reach up to that mobile and give it a yank we had to be done with them. It was no longer safe and there was no way to keep just a piece.
Not the same case with the Soothe 'n Groove Mobile!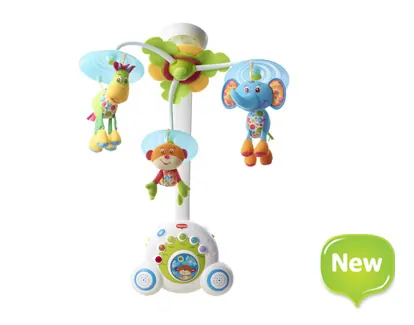 The top of the mobile comes off, while the music box can stay attached to the crib. And when your child is a toddler, it gets converted to a stand alone music box which your child can carry around and play with! That makes this a mobile that you won't just use with your baby for a few months, but for up to 2 years (if not longer).
Also, I am loving that it has a calming night light and a music shuffle button. This mobile is everything I would have wanted all rolled into one!
Disclosure: This post is part of a promotional campaign with Soothe N Groove. All opinions are our own.
Liza is a blogger and freelance writer.  She resides in Rhode Island with her husband and 3 active boys – a five year old and identical twin four year olds.