This post may contain affiliate links. Read my disclosure policy here.
Sometimes it can be tough to find the energy to cook dinner after a long day of working and entertaining the kids. With good intentions, I tried making a menu and planning out my meals, but I soon found that I didn't always stick to it. Too many times, at the end of a busy day, I succumbed to ordering pizza or take out, mainly because I just wasn't sure what to cook for dinner.
But then I received the Family Meal Planner, which made everything simple for me. With its weeks of menus already planned out, as well as the shopping lists, dinner became a breeze.
All of the meals are simple and include a crock pot recipe each week. I am a huge fan of crock pots. I LOVE the satisfaction of knowing that dinner will be on the table on time, as well as the enjoyable aroma filling the house during the day. It's wonderful!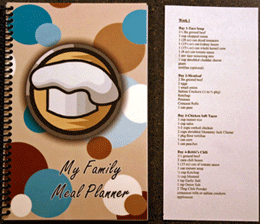 My Family Meal Planner includes a 12 month Calendar with meals planned for 4 days out of each week, all the Recipes that you need, and a weekly Grocery List. This 8.5 x 5.5 inch, coil bound book with laminated covers will be very helpful to any busy family.

The grocery lists are included in the book, but to make it easier for you, it also includes a Magnetic Grocery List Notepad to put on your refrigerator. Just cross out what you already have, add any additional items you may need and head to the store.

IT IS SO SIMPLE! Meals are planned for 4 days a week, so you can still add in your family favorites or head to your favorite restaurants the other days!

There are over 75 main dish recipes as well as recipes for some delectable desserts. Most recipes serve four to six people.
Due to the popularity, there is also a Family Meal Planner #2, just like the first, but with 75 different recipes. Plus there are recipes for sides, salads, dips, breakfast and of course more desserts! There are also crock pot meals EVERY week.
Lindsay Siebert, owner of My Family Meal Planner and day care provider, also sells a My Kids Meal Planner.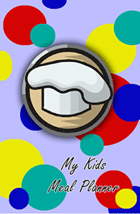 My Kids Meal Planner was created just for Kids! This meal planner plans Breakfast, Lunch, and Snack for 5 weeks! There is a 5 week menu, recipes and weekly grocery list categorized by store departments!

All meals are quick and easy to prepare. Breakfast includes 1 bread and 1 fruit served with milk, Lunch includes 1 meat, 1 bread, 2 fruits or 2 vegetables or a fruit and a vegetable served with milk, and Snack includes items from 2 different food groups. There is vitamin C daily and vitamin A at least twice a week.
My family and I have enjoyed Lindsay's delicious dinners. I am very pleased with how easy they are. My kids love the Colorful Chicken Strips, while the Fiesta Cheesy Chicken, Sanchos, Creamy Potatoes 'N' Kielbasa and The Onion-Roasted Chicken dinner have become family favorites.
We have loved every single crock pot meal, which is great, because for the longest time my crock pot sat on my counter untouched. While we don't always follow the weekly menu exactly, finding that we switch dinners around here or there, the preprinted grocery lists are still very helpful.
If you run a busy household or struggle with meal planning, My Family Meal Planner will work wonders for you.
One lucky reader will receive: My Family Meal Planner w/grocery list notepad, My Family Meal Planner #2 with grocery list notepad and a My Kids Meal Planner, retail value $56.00.
Here's how to enter:
Please leave one comment below to enter this giveaway. You may earn additional entries for the following:
1. Subscribe to our Feed
2. Sign up for our Newsletter
3. Add our 5M4M button in your sidebar. Click here for banner codes.
4. Write a post and link back to this contest on your blog or spread the word to your friends via facebook, twitter, etc.

If you are already subscribed, are on our newsletter list, and have our button in your sidebar, you qualify for these three additional entries. Go ahead and leave your additional comments below. Your comment is your entry, so if you qualify for the additional four entries, make sure you leave five comments in total.

Entries are open from Saturday, November 29th thru Friday, December 12th. Our winner will be drawn randomly and we will announce the winner Saturday, December 13th. Please make sure to check our site and your email address to see if you have won the prize. We must receive your reply within 5 business days.
Due to legal restrictions, this promotion is not available in Arizona or Quebec.
Please see our site's Terms and Conditions of Use for a complete list of our Contest and Giveaway Rules.