This post may contain affiliate links. Read my disclosure policy here.
Lolli here….Remember my trip to New York City in December? I am so excited to finally get to share one of the last treats that our group was able to participate in before we all headed our separate ways and left the City.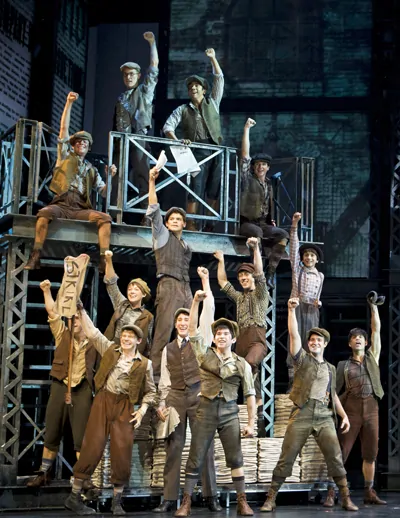 First of all, a little background – I originally heard the story of Newsies in 1993, during my freshman year of college. My younger sister told me over the phone about her new favorite movie on VHS. She raved about the music, and let me listen to the CD. I was intrigued, so I rented the movie myself.
I fell in love with the characters, the dancing, and the songs. Musicals have always touched me more than the typical movie. The music, if good, speaks to my heart….and Newsies really spoke to me. I ended up buying the CD as well and soon had every song memorized.
Flash forward to 2011, December. When I heard that Newsies was coming to Broadway, I was more than thrilled. I KNEW it would be a hit.
About Newsies on Broadway:

Newsies, the breakout American musical, is opening in Broadway's Nederlander Theatre. Advance tickets go on sale starting Monday, January 30th; previews begin on March 15th and opening night of the show on Broadway is March 29th. NEWSIES is currently scheduled to run until June 10th (of longer if it's a huge success like I'm predicting).
Newsies is inspired by the real-life 'Newsboy Strike of 1899,' when newsboy Kid Blink led a band of orphan and runaway newsies on a two-week-long action against Pulitzer, Hearst and other powerful newspaper publishers.
The musical features a score by eight-time Academy Award® winner Alan Menken (Beauty and the Beast, Aladdin, Sister Act) and Jack Feldman and a book by four-time Tony® Award winner Harvey Fierstein (La Cage aux Folles, Torch Song Trilogy). It is produced by Disney Theatrical Productions, is directed by Tony nominee Jeff Calhoun (Big River revival) and choreographed by Tony nominee Christopher Gattelli (South Pacific revival). What a line-up!
Interview with Steve Fickinger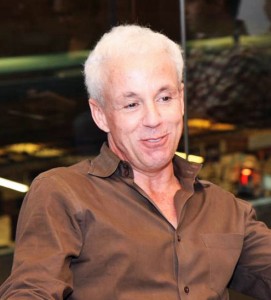 Before we left New York City, our band of bloggers was able to sit down with Steve Fickinger, VP of Creative Development and Licensing for NEWSIES on Broadway. Here are a few of the things Mr. Fickinger shared with us:
Well, I am thrilled to talk to you all about Newsies for a couple reasons. First of all, I love the show, and second of all, I've been working on it for seven years.
This is my job in a nutshell: if somebody says, "Newsies, let's make it a stage musical", my job is to get the writer, the lyricist, the composer, spend X amount of time doing readings, drafts, notes, workshops, and then we do the first production to actually get the director, choreographer, set designer, etc. So I would say my job starts with the idea, and my job is done when the curtain comes down on opening night, and everyone loves the show.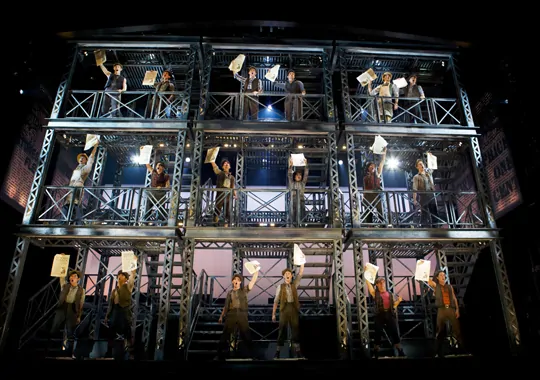 Well, as you might know, oddly in the 1992 film failed. Failed, failed. I think it made maybe three million bucks. It was in the theater for one weeks – a famous failure. But it developed this cult following on home video, and there is a generation of kids who know everything about it, they know every word, they know every lyric, they know the moves, wonderful. It's like a religion to them.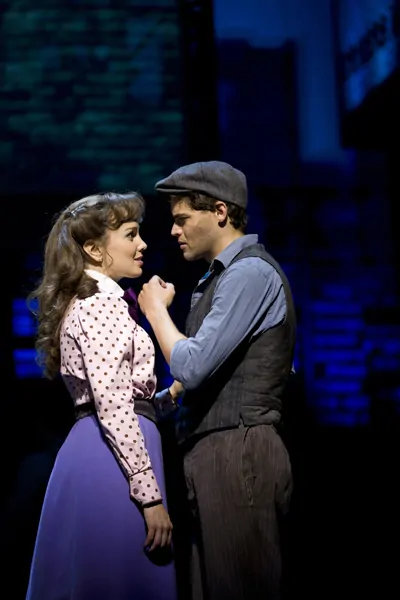 Doing the job that I do, when people come here to work, to pose or to perhaps work on an adaptation of a Disney film, I see there are two different types. One are films that people know everything about, and so you'd really better give them the story, the characters, and the songs. You'd better give the one they remember. That's sort of like when we did High School Musical. All the kids knew High School Musical. You weren't gonna really throw out a lot of characters.
Newsies was a little different. I was firmly of the belief that what people remembered about it was songs, the emotion, sort of the bravado, that you didn't really have to stick slavishly to the story. So they gave us some room to do a little adaptation, that it would be much more of a story that was ready for the stage and right for the stage.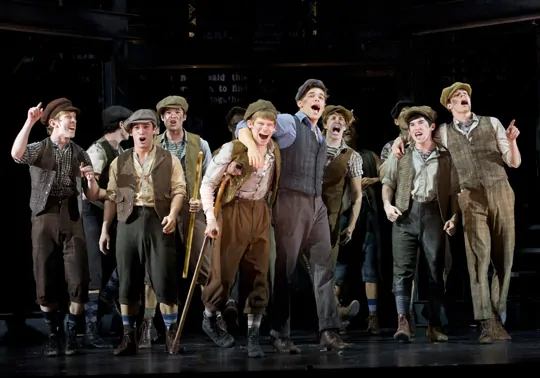 We're getting ready to open officially on March 29th, and we have announced a limited run. Anything could happen.
I think we're thinking that if things do extend, we'd love to play through the summer. Of course I want it to go on and be a success, but here's what I really want. I want however long it's open, be it ten weeks, twenty weeks, thirty weeks, I want it to be great. And I'm really, really proud of the show. It is in the best sense of the word, an old fashioned musical. It has tap dancing, it has dancing, it has soaring ballets, it's got toe tapping tunes, and it's got a story that is oddly, and sort of fantastically timely, which is about the David versus Goliath and the little guy taking on the big sort of behemoth. And you won't be surprised to hear winning.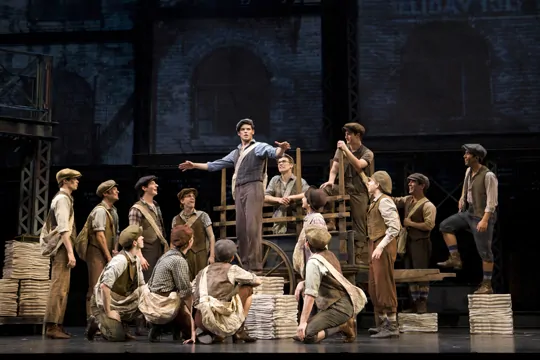 I don't know about you, but I cannot wait!
Connect with NEWSIES on Broadway:
Disclosure: Disney/Dreamworks sent me to New York City to attend the world premiere of War Horse as well as a few other treat during our weekend stay. I am eternally grateful that I was able to go on this trip. It was both an adventure and a deeply moving experience. All thoughts and opinions are my own, and I did not receive any monetary compensation for the time I took to go to New York or write these posts.