This post may contain affiliate links. Read my disclosure policy here.
When I was growing up, I would go through my grandmother's jewelry box and ask her about each piece of jewelry. I wanted to know where she got those earrings from and who gave her the rose necklace. She would sit patiently and go through each piece with me and share her memories about each one and I would listen to her stories as I gazed at the details that made each of her accessories unique. She had a locket on a chain, and I would always save that one for last. I would open the heart shaped locket to reveal tiny black and white photos of her mother and father and we would talk about them and my grandmother's life as a child. It was a wonderful way to bond with her and remember my great-great grandparents.
Now I have children of my own and sometimes my youngest will ask me about a particular item I am wearing and I will give him the details about its history. Having never owned a locket, we didn't have photo jewelry to talk about until last week.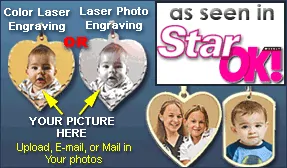 The mailman delivered a black velvet gift box from Pictures on Gold that contained a beautiful, personalized, gold-filled locket engraved with my nickname. I was really quite thrilled when I opened the box and saw the charming little heart locket.  I was even more excited when I read the engraving – "boymom"!  My husband was really impressed with the clarity and crisp edges of the engraving on the front.  Apparently it's not always easy to achieve that level of precision while engraving, so kudos to Pictures on Gold for getting that process down to a science.
Inside are two laser engraved photos, one each of my two boys. Yep, I said laser engraved. I had no idea this process even existed!  No tiny, paper pictures that can get bent or torn while trying to get them to fit into the tiny heart shaped holder.  No worrying about the little photos coming loose one day and falling out when one of the kids pops open the locket to see what's inside. What an awesome concept, right? I was really amazed at how great the photos look. They are very clear and easy to see, the colors are nice and bright.
I love my new locket and will treasure it forever. I can already imagine sitting with my grandchild as they look at the pictures inside and ask me what their dad and uncle were like when they were kids.
About Pictures on Gold
They offer a large selection of lockets, pendants, charms and ID jewelry, which can be permanently engraved and customized with photos of loved ones, friends or pets.
The ordering process is quick and easy! The website walks you through each step of the process, giving you choices along the way regarding how you want your photo inserted (paper, laser, color, no picture), what kind of engravings you would like, etc. The hardest part for me would be choosing from the huge selection of jewelry. All of their jewelry is made of high quality materials, so you can't go wrong no matter what you choose, whether it's stainless steel, sterling silver or 14K gold.
Things I love about Pictures on Gold:
Great selection of jewelry (rings, ID bracelets, charms, lockets, pendants)
High quality materials
State of the art laser engraving eliminates need for paper photos
Message engraving is clean, precise, easy to read.
Picture quality is fantastic! Great color and clarity.
Pictures on Gold offers so many items, it would be hard not to find something unique and wonderful to give to a loved one and with Valentine's Day just around the corner you can give a beautiful, personalized gift that will last so much longer than chocolates or flowers. I am so pleased with my own locket that I'm already working on Mother's Day lockets for the grandmas in the family! 
I received compensation for this review.  However, my opinions are always my own.

Geri Chase is a freelance writer, blogger and mom/wife to two fantastic boys and an amazing husband. When she's not writing product reviews, you can find Geri blogging about her life and family adventures over at I Am Boymom.