This post may contain affiliate links. Read my disclosure policy here.
It's that time of year. Everyone's talking about it, and it isn't just with New Year's resolutions. I walk into my gym this time of year, and suddenly "my" locker isn't available because of the influx of new members. That's a good thing. Anytime people make the effort to increase their fitness level, I'm all for it – in whatever form works best for them. Personally, I'm a gym girl. Once I walk in the gym doors, I have to do something because people are watching.
That said, I do exercise at home when I can't get out. The days when my schedule is jam packed but I need something to pep me up, or the wee ones are home sick from school, or I was lazy and now feel guilty about it? Those are the perfect times to do something at home. I recently had some friends over to do some workout videos and get their thoughts on them, and we actually had a good time, although not everyone would go on camera. Me? I have no such fears!
We received four different workouts from Yahoo! Shine Get It Guide. The Yahoo! Shine Get It Guide, showcases the things women are searching for and talking about. A new Get It Guide will come out every two weeks, focusing on a specific category (i.e. fashion, beauty, fitness, children products, etc.). The first three topics included Celebrity Fragrances, Jeans, and Toys. The current Get It Guide topic is Most Popular Fitness DVDs. Check out the Get It Guide to learn more about what people are saying about each DVD and vote for your favorite!
We received Personal Training with Jackie: Crunch-free Xtreme Abs, Insanity: Fast and Furious, Zumba Fitness, and Kettlebell Basics: Bob Harper Body Shred Workout. Not surprisingly, no one wanted to do the Insanity workout – especially not in front of others. We ended up doing the Zumba Fitness workout(which is what the giveaway will be), which included Zumba toning sticks – which I've never seen before but oh man did my arms get a workout! – and the Bob Harper workout, which included a compact kettlebell that fascinated everyone. Apparently we're all just gadget geeks at heart.
 About the workout videos
Kettleball Basics: Bob Harper Body Shred Workout is a 30 minute toning DVD that features Bob Harper from The Biggest Loser as the personal trainer.  It requires a contoured kettlebell, as there are some moves where you don't want a traditional kettle ball for comfort reasons.  The video shows a woman doing the moves with Bob Harper acting as her personal trainer while she does the workout.  It includes stretching before and after the primarily strength training session.

INSANITY: Fast and Furious is a 20 minute version of the 45 minute INSANITY series of DVDs.  It is an intense workout designed for those who work out on a regular basis.  This combined both strength training and cardio but needs no other equipment than your body.  It is a very fast video and focuses on using speed to get through a lot of exercises in a short timespan.

Personal Training with Jackie: Crunch-Free Xtreme Abs is a DVD with two workouts aimed at improving your abs without resorting to a single crunch.  The workouts are both 15 minutes long.  One relies on standing, while the other is done on the floor.  They are not meant to be done one after the other but rather rotated across days.  The video claims you can get results doing the videos just three times per week.  You do need a pair of hand weights to do this video as designed, though in a pinch you can do it without any.

Zumba Fitness comes with two videos, "Complete Total-Body Transformation System" and "Zumba Fitness Live! & Flat Abs."  This is a full body workout that utilizes dance to burn calories.  It is a fast-paced Latin workout that utilizes Zumba sticks to increase the intensity of it.  Interestingly, this comes in both Spanish and English.  It features the founder of Zumba – Beto – running the show with a host of dancers to keep you in the groove.  The videos range in length from 20 to 60 minutes, giving you options depending on the amount of time you have available.
Which was our favorite?
The Zumba video got a more enthusiastic response, as the dancing and moving around is more energizing and fun for us. Yes, we were sweating, and yes, we needed to take breaks, but we enjoyed it. This is one that I'll add to my rotation.
 Enter to win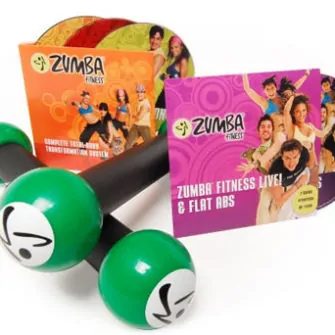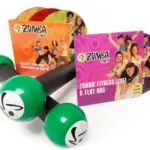 One 5 Minutes for Mom reader is going to win this great Zumba Fitness package courtesy of Yahoo Shine! Fitness. To enter the giveaway, simply leave a comment here telling us what your favorite workout video of all time is.
This giveaway will end on Febuary 3rd and a winner will be chosen by random.org and announced the following Sunday in our Around the Blogosphere post.
In the interest of full disclosure, I received the videos mentioned above courtesy of Yahoo! Shine for review purposes. I was also compensated for this post, although all opinions remain my own.
You can find Michelle currently sitting on her couch where she's embarrassed at how much effort it takes to stand up after doing Bob Harper's kettlebell workout that didn't seem that hard at the time. Laugh at this and other antics on her blog Honest & Truly! Or find her on Twitter as @honestandtruly.