This post may contain affiliate links. Read my disclosure policy here.
How are you keeping up with those New years Resolutions?
2012 is off to a great start
So far, I am happy to report, I have been doing relatively well on my goal to attain more balance in my life (although I admit I've been swinging my balance farther toward family time and rest than I have toward work…). 2012 is off to an amazing start.
The main thing I've been working on this week? Spending more quality, relaxed time with my kids and cooking real food for dinner every night.
On Saturday, I made my family Basil Chicken Salad Wraps using Tyson® Grilled & Ready® chicken strips. Oh. My. Goodness. My mouth is salivating just thinking about how amazing they were! The recipe was so incredible that I shared it on my blog that night.
The best part about our dinner was my husband's reaction, though. He knew that I was getting "something frozen" from the grocery store, and he turned his nose up, proclaiming to the kids that he wasn't going to eat the frozen dinner. I lured him up to the kitchen after I was finished making the chicken wraps and he saw that THIS meal was anything BUT frozen.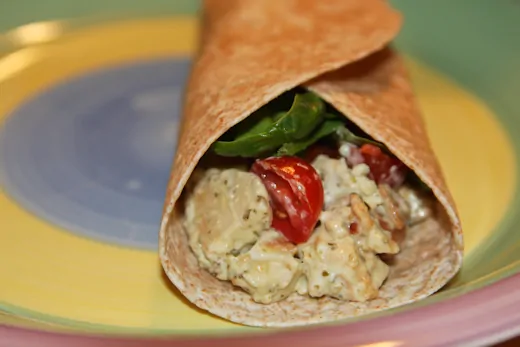 He had thirds.
Stay on track with your goals in 2012!

Tyson Foods and Hungry Girl have teamed up to coach women through the next month via the recently launched "30 Days, 30 Ways, 30 Rewards."
As of January 2, you can visit www.30days30ways30rewards.com for everything you'll need to get on track and stay on track all year long.
Each day that you visit the site during January, you'll find three ways to balance an active lifestyle: a nutritious and quick recipe (with fewer than 500 calories), a clever tip (including some from Lisa Lillien, aka Hungry Girl) and a chance to win a health-themed prize.
So far, the tips provided have been so helpful:
I'm excited to see the tips for the rest of the month.
Enter to win!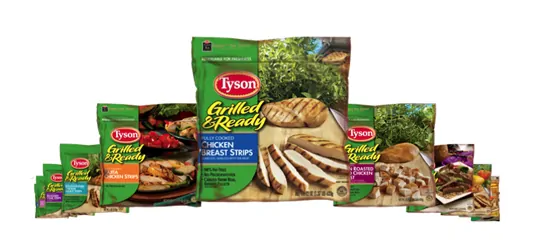 Tyson and 5 Minutes for Mom is offering a giveaway for a free bag of Tyson® Grilled & Ready® products as well as Hungry Girl's new book, Hungry Girl Supermarket Survival Aisle by Aisle HG-Style!

To enter, leave a comment below with your favorite tip on how to keep your New Year's resolutions.
This giveaway ends January 23rd and a winner will be chosen by random.org and announced the next Sunday in Around The Blogosphere. Please see our site's terms and conditions for more information.
Disclosure: Tyson provided me with the book and a coupon for a free bag of Tyson chicken for review, but the thoughts and experiences expressed here are my own.
Written by 5 Minutes for Mom managing editor, Lolli. You can find me blogging at Better in Bulk and tweeting at @1momof5.