This post may contain affiliate links. Read my disclosure policy here.
The Christmas that went by in 2008 with no presents under the tree for my children was one of the most heartbreaking times of my life. It is one that I hope never gets repeated again. To think that there are families this Christmas dealing with this issue just breaks my heart. That is why I am so thankful for Under the Tree.
This year, we had many families write in asking us to help to give their children presents for Christmas. We truly wish that we could have helped all of you, and you have all been in our thoughts and prayers. However, thanks to the generous donations of some of our clients we were able to help 11 different families this Christmas!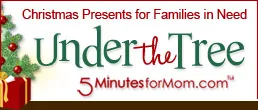 Thank you for participating and for caring so much to nominate your friends and families.
We want to be sure that we are able to help out families again next year, so we would love it if you would take a moment to comment here and thank the companies who participated in Under the Tree this year.
Thank You from the bottom of our hearts!
Thank you to these generous companies who donated gifts to our Under The Tree Program. We couldn't have done it without you!!!
Readers – please remember to show them your appreciation by clicking over to their sites.
Thank you again for being part of the 5 Minutes for Mom family! We appreciate you so much and we pray you are having a blessed and happy holiday season with the ones you love.
Merry Christmas!!!