This post may contain affiliate links. Read my disclosure policy here.
Most people think of the Yellow Pages as a resource for finding the addresses and phone numbers of local businesses or repairmen. But I've learned recently that you can use the Yellow Pages for so much more!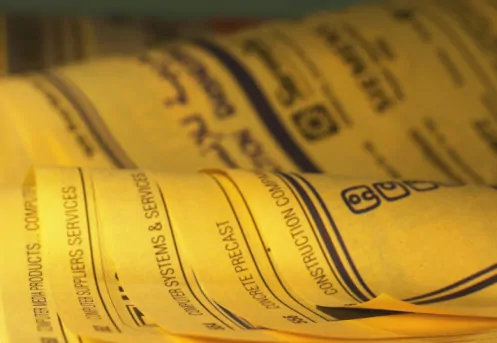 I moved about three months ago to a new town where we knew absolutely no one and had not a clue where anything was, and since then the Yellow Pages have become my new best friend!
Besides browsing for new restaurants to eat at (I love blogging about food and eating at places that are unique and different), and locating all the different shops and stores in my area, I've referenced the Yellow Pages for some really useful and essential info:
Emergency Information –Phone books list local police, fire and hospital information, evacuation plans in case of natural disasters, and numbers for domestic abuse hotlines and poison control centers
Parks and Recreation Information – Yellow Pages include information on the best places to take the kids and pets out for a stroll as well as contact numbers for park officials to arrange special outdoor events. Also, information on area museums, concert halls, zoos, and more!
Maps of Local Arenas and Stadiums – Many phone books have maps of local venues to help you find the best seats in the house
Transportation Maps – Some phone books include maps of local transportation routes, including bus and train stops, so you can easily figure out where you're going around town
Post Offices – Phone books list the locations of local post offices and include maps illustrating the different zip codes in your area
Coupons – My phone book includes several pages of great coupons for local businesses, along with QR codes that let me scan the coupons with my phone for maps and even more deals!
I know some of you prefer to use online or mobile methods to lookup local information and may want to adjust the number of phone books you receive. If so, visit www.YellowPagesOptOut.com today to adjust directory delivery to your home. You can limit the number of Yellow Pages you receive or stop delivery altogether.
Some benefits of the site, which is maintained by Yellow Pages publishers nationwide, include:
It's easy to use and completely free
It shows the cover images of all directories in your area so you can easily identify which ones you want to receive and which you don't. Your registration information is kept completely private
You won't need to recycle delivered phone books that you don't plan to use
This is part of a promotional campaign with the Local Search Association. All opinions stated here are my own.
Written by 5 Minutes for Mom Advertising and Communications contact, Jennifer. You can find me blogging at For Such a Time as This and tweeting at @jennifer_sikora.