This post may contain affiliate links. Read my disclosure policy here.
Ten years ago I'd never seen a handheld game. Come to think of it, 10 years ago, most cell phones were only used for making calls and texting. No one used a cell phone for playing games.
For my son, handheld gaming devices are what he has grown up around. He has seen my husband and I use a myriad of cell phones over the years. He was a little guy of 2 when he started using a pretend cell phone. By 3 he had a Leapster Explorer. I'm still a tad shocked that I gave him a Nintendo DS when he was 5.
You see I had no choice. I know, I know, you're probably saying "Well, you didn't have to give it to him!" You're right, but at the time my son was completely and utterly obsessed with his sisters' Nintendo DS and any of the games he could get his hands on. His older sister took to hiding in her bedroom so that her brother wouldn't see her playing with it.

So after hearing him whine and ask for his own DS, I gave in and got him one. In fact, I gave him a Nintendo DS that I won in a 5 Minutes for Mom giveaway! My son absolutely loved having his very own DS. The only problem I had was that there were very few games for kids his age. And that is why my son and I absolutely love the new Nintendo DS The Magic School Bus Oceans game.
We love The Magic School Bus in our house. My daughters watched the show all the time. My youngest is not as familiar with the show, but he was eager to learn more by playing the game. We're a Scholastic family! My son finished his homework in record time AND without minimal complaining the day this new Scholastic game arrived. He quickly got to work exploring the game.
A few details about Nintendo DS The Magic School Bus Oceans game:
Recommended for 7+
7 games with almost 200 science interactions
Points earned can unlock areas to explore
Many, many facts about life under the seas
Trivia questions
List price is $19.99, but it is on sale at Scholastic for $13.49 and on amazon for $16.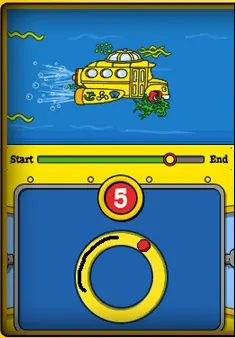 Here's a scene from The Magic School Bus Oceans game for Nintendo DS — young gamers can take a turn driving The Magic School Bus!
I asked my son what he liked about the game. Here's what he said:
"I liked learning about the ocean, sea creatures, and sea weed."
He said that there is some reading involved, especially the trivia questions.
He told me that he wouldn't recommend the game for preschoolers as reading is involved. He very helpfully suggested that younger kids should use a handheld game system, like a Leapster Explorer. Note: The game is rate as 7+ with an ESRB rating of Everyone.
Enter to Win!
One lucky 5 Minutes for Mom reader is going to get their very own copy of this game. To enter, simply leave a comment here letting us know what your child's favorite Magic School Bus story is. A winner will be chosen by Random.org and announced in our Sunday Around the Blogosphere post. This giveaway will end on December 20th, 2011 at midnight.
I was sent The Magic School Bus Oceans game for Nintendo DS to facilitate my review. The opinions expressed in the post are my own. I follow the tenets of Blog With Integrity.

This post was written by Jill Berry.