This post may contain affiliate links. Read my disclosure policy here.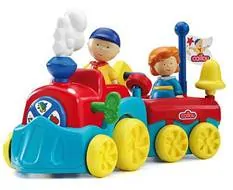 When my children were early elementary age, we spent a year living in France, which is when we first became acquainted with Caillou, the charming preschooler with the big imagination. Although my kids felt they were officially "too big" for him, they still liked to watch his antics, framed always by Mamie (grandma in French) telling a story about him to her grandchildren. So when I got a chance to review Caillou's Treehouse, I jumped at it, even though my kids are now teens and really too big. I will say, though, that teens are a lot more useful at putting playsets together.
I love playsets, even though I don't spend a lot of my time playing with them anymore. I love that they encourage imaginative play, and that they don't make annoying noises like so many toys. (I have a very low tolerance for toys that make electronic noises of any kind) Although this set ties in to the popular series, because it encourages free play, it doesn't matter if a child is familiar with the TV show or not.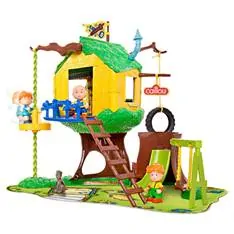 Caillou's Treehouse is really fun. There's a spinning elevator sort of thing (this is my favorite part. It can be quite soothing), a tree swing, a slide, a swing, and a ladder. The roof of the tree house slides open so that figures can be easily placed inside and played with. There's also a stiff paper mat to set the tree house on with pictures of a path and a sandbox. The set comes with 4 figures—Caillou, his sister Rosie, his friend, and his cat Gilbert. (Please pronounce this the French way—Ghilberrrr–just for me.)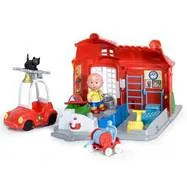 But how do actual children feel about it? The other night, we had a four-year-old girl over. My son Abel, 14, set up the Treehouse and she and her 8 year old brother played contently for a long while. I was impressed with the many stories they had going in just a short time.
Want to delight a child in your life with the gift that encourages interaction and imagination? I'm thrilled to announce that one lucky winner will receive THREE Caillou gift sets–Caillou Treehouse, Caillou Learning Train, and Caillou Fireman's House–valued at $95. U.S. shipping only.
Just leave a comment if you'd like to win. We'll announce the winner here on December 18.
You can like Caillou on Facebook to keep up on the latest.
5 Minutes for Books reviewer Elizabeth must admit that she enjoys playing with sets more than putting them together, and that having teens does have its advantages. Learn more about her family's travels and travails at her blog Planet Nomad.