This post may contain affiliate links. Read my disclosure policy here.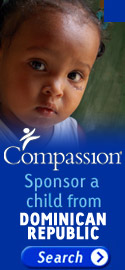 Even before I left home on Sunday morning, my four-year-old son Kyle cried about missing me. It wasn't a contrived or annoying wail, but instead a quick flash of tears and a crumpled brow that put a face to his words, "I'll miss you, Mommy."
We went to church and left straight from there to come to the airport where I would be dropped off and Pops and Tutu (the grandparents coming into town to help with the kids) would be picked up. By the time we got to the airport, and I was checking in, he had made peace with it. We had discussed several times why I was going. I tried to remind him by asking, "You remember that boy I told you about? The one who we have a picture of who lives in the Dominican Republic? What did I tell you about him?"
"That he's five?"
Yes, I had told him that he was just a little older than Kyle is, and that is quite an important detail to a preschooler. "Yes, he's five, but remember I told you that he doesn't have a Mommy, and he doesn't have a lot of food or clothes or toys like you do. I'm going to meet him, and we're going to be helping him."
"Okay," he relented. "But I'm still going to miss you," he admitted as the tears filled his eyes as he tried to steel his face.
I'll miss him too (I already do), along with his big sister and his daddy.
But I had to come. My reasons why are as simple as the terms I used to help my four-year-old understand my trip. There are a lot of children here in the Dominican Republic and across the world who don't have the food, education, and medical care that we do. Compassion International exists to help them, and they can't do it without our help. You can click the banner over to the right if you want more info about sponsoring a child.
After months of waiting, we're all here. The team met up in Miami. We cleared customs, we had a late dinner together, and now we are trying to settle in to bed. Tomorrow we'll visit an early childhood intervention center.
Please stay tuned. I know without a doubt that God is going to speak to me this week, but it's my hope that he'll speak to some of you in a very real way as well.
My traveling companions:
Tim from Challies.com and his son Nick who will be blogging at Challies Jr.
Marlboro Man and his two daughters from Pioneer Woman
Mary, of Owlhaven (my roomie)
Melanie aka Big Mama
Brian Seay and Shaun Groves are the leaders of the trip on behalf of Compassion International.
Please visit my Compassion Trip Page, to see all of my posts from my journey.