This post may contain affiliate links. Read my disclosure policy here.
I love it when I leave my hair salon with an adorable style, beautiful highlights, and yummy smelling hair. My stylist also has this way of giving me extra volume with a trendy zigzagged part. My hair stays gorgeous until it comes time for me to wash it, leaving me to have to style it on my own.
I stink at doing my hair, or anyone else's hair for that matter. I have never been good at it. I believe that I have had pretty much the same hair style since high school. I really do love how I look with a zigzagged part in my hair, but have never mastered creating one on my own, and believe me I have spent many hours trying.
What is so wonderful about a zigzagged part, is it not only adds volume, it also hides dark roots and can extend the look of hair color. Chrissy Sparrow, creator of the Styl Styk Hair Part-ner, discovered that many women were having a difficult time mastering the zigzagged part on their own. It makes me feel better knowing that I am not the only one.
Thanks to Chrissy and her incredible Styl Styk Hair Part-ner, anyone can master the zigzagged part in just a few easy steps.

The Styl Styk Hair Part-ner is a unique two-pronged hairstyling comb that allows you to create zigzag parts and other fuss-free styles in seconds.
With the Styl Styk you can create large, medium and small parts to give hair volume, hide dark roots and produce salon results fast.
The Styl Styk is perfect for women of all ages and most hair types. Whether you're covering gray, hiding dark roots, or craving a young, new style, the Styl Styk does the trick.
Since the Styl Styk Hair Part-ner comes in two sizes, there are many fun looks that can be achieved. Whether you desire a small zig-zag, or a larger, wider part, the flip-do comb or ponytail comb will do the trick.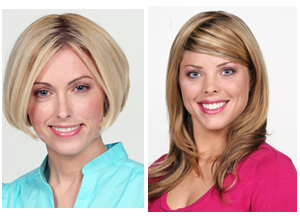 I must admit, I was a little overwhelmed at first, when I set out to give my hair some new and fun styles. But as I mentioned before, I am not too good at styling hair. It did take me a few tries to achieve the desired look, but I was soon zigzagging in no time. I couldn't believe how easy it was. Those two styles pictured are my favorite ones: the Small-Z and the Offset Part.
What's great too, is that there are several video demos on Styl Styk's website as well as a very helpful styling guide that comes along with the product. My two Styl Styk combs have become my hair essentials, especially now that my hair is in dire need of a coloring.
This product is great for any age. I could see the teenagers loving this product and the trendy styles it can create. For us busy moms, it is perfect to quickly give us a quick fun 'do or to help us hide our roots when we haven't found time in our busy lives to go to the stylist. I am pretty sure that if you try the Styl Styk Hair Part-ner, you will LOVE it.
And we have 25 to give away. Please leave a comment below and we will choose 25 lucky winners on Saturday, November 15th. Winners will receive both the flip-do and ponytail combs as well as a styling guide. This giveaway is only open to US shipping addresses.
Also, if you want to include the Styl Styk Hair Part-ner in your Christmas shopping, the Styl Styk Hair Part-ner™ will donate $1.00 for each Styl Styk™ sold to Breast Cancer Network of Strength™ formerly known as Y-ME National Breast Cancer Awareness Organization.