This post may contain affiliate links. Read my disclosure policy here.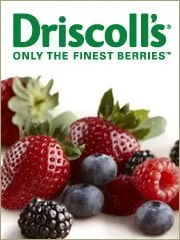 Do you know about Driscoll's – Only the finest Berries?  So good.  I recently did a Twitter Party with them.  They have strawberries, raspberries, blueberries and blackberries.
Right now I can't seem to get enough of their strawberries and raspberries (even though they happen to be out of season for New England) when I hit the supermarket.  The boys and I love them.
Driscoll's is currently running a very exciting contest called 'Celebrate the Sweeter Moments'.
Between now and December 15th, when the entry period closes, you just need to visit their website and tell them about a special occasion when the berries made the moment sweet.  (I'm thinking back to holidays at my Great Grama's house when I was a kid.  Strawberries in a homemade sauce over cheesecake.  As a kid I didn't even love cheesecake, but I would have some just for those strawberries.)
Tell your story, then upload a photo of the sweetest berry moment.
Once you have entered the contest, then all you need to do is come back from December 19th through January 9th to vote for your favorites. Winners will be announced March 1st, 2012.
The Grand Prize for winning this contest is A Viking Professional Cookware Set (worth $1,395)!!!
Nine finalists will receive $100 in Driscoll's Berries Coupons!  So what are you waiting for?  Enter TODAY!  You can visit their Facebook page or go directly to their website.
Written by 5 Minutes for Mom contributing writer, Liza. You can find Liza on her personal blog, Cira's Lyrics, and on twitter at @Liza_Rae.
This is a promotional campaign with Driscoll Berries. All opinions are our own.