This post may contain affiliate links. Read my disclosure policy here.
When my oldest daughter was a baby, way back in the mid-90's, we had one of those big camcorders that we used to record all of her firsts – her first smile, her first taste of food, her first steps.
My parents lived in California and we lived in Maryland. These were the days before YouTube, and only serious video editors had editing software. I had no way to share videos of my parents' oldest granddaughter except to get on a plane and fly out to show them in person.
Now, I take videos of my kids and can instantly share them on YouTube or Facebook – which is wonderful! – except when we don't want to share the videos that we take of the kids with everyone.
What happens when we want to share a video with a grandparent, an aunt or uncle, or a teacher? Enter Givit.com:
About Givit

Givit lets users securely upload and share videos with only those people intended to view them. As easy to use as email, Givit makes it possible to share videos from any camera with your friends, family, and colleagues – anytime and anywhere.
"The idea is to give people ultimate control over who is able to watch a video they share through an efficient service that makes sharing video easier than ever before," said Greg Kostello, CEO and co-founder, VMIX. "Current sharing solutions on the market today are neither focused on privacy nor optimized for video so we anticipate Givit having mass appeal across a broad range of personal and commercial applications."
Whether you are a parent wanting to share key moments in your children's lives or professionals with training videos to share, everyone can appreciate Givit's speed, security, privacy, and simplicity.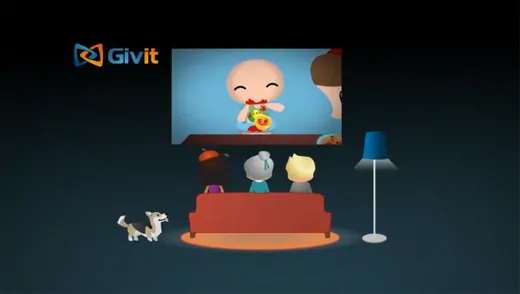 What I love about Givit
I love that it's free to sign up and share my videos. And since I have been traveling more lately, I really appreciate the fact that Givit's cloud storage allows me to access my videos wherever I am – whether I'm at home, at the library, or at a conference in another state.
Most of all, I love that I can now upload the video that we took of two of my kids wrestling on the living room carpet this weekend….while it's not the kind of video I want the world to see, I know that my family would get a good laugh over it.
Written by 5 Minutes for Mom managing editor, Lolli. You can find me blogging at Better in Bulk and tweeting at @1momof5.
Disclosure: We are working on a paid campaign with Givit.com but all opinions are our own.