This post may contain affiliate links. Read my disclosure policy here.
I spend quite a few hours a day sitting at my computer desk – more than I'd like to admit. It's easy for me to get stuck in front of my computer for hours before I realize that I haven't moved at all.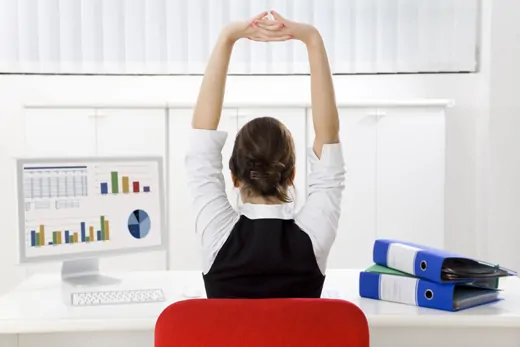 Because I work at home (with my office space in my bedroom, no less!) I have a tendency to get lazy about the way that my desk looks and functions. And I have noticed that time passes really fast when the kids are at school, the house is quiet, and I'm writing away.
Fall is currently underway and Winter is following close, and that means we ALL need to be diligent about fighting bugs and keeping fit and healthy, and I can use all the tips I can get for making my work space a more healthy, vibrant place to spend my time.
Clorox recently sent us some easy and fun ways you can get fit and stay healthy while at the office – whether your office is across town or upstairs.
Tips to Make A Healthier and More Vibrant You
o    A study conducted by the American Cancer Society tracked the health of 123,000 Americans and found that women who spend six hours or more per day sitting have a 40 percent higher death rate than women who sit for three hours or less.
o    More companies are using standing desks to help reduce the increased health risks of a sedentary lifestyle, such as diabetes, heart disease and obesity—plus standing desks help keep employees energized and more productive!
Do Little Things that Make You Smile
o    To help you lead to a more balanced work lifestyle, download an app that provides you with healthy tip reminders, such as getting some fresh air or listening to a favorite song. We like to listen to Glee!
Get Toner… And Not the Kind for Your Printer
o    Use your office furniture and any free time to do a "mini workout." Exercise your triceps by doing a few dips using the edge of your chair; take the stairs after lunch to burn calories; and try calf raises while waiting for documents to print.
o    Because some cold and flu viruses can survive on surfaces for up to 72 hours, an office can become an incubator.
o    Save your sick days for the "not so sick days" by using Clorox® Disinfecting Wipes to disinfect office hotspots including your desk, mouse, phone receiver and doorknobs to help prevent the spread of cold and flu viruses.
Take a Timeout and Remember to Hydrate
o    Work is a marathon, so it's important to keep yourself hydrated throughout the day. Check to see if your office has installed "hydration stations," which allow you to refill your water bottle to get your daily recommended glasses of water, limiting plastic waste.
What are some of your tips for creating a healthy work space?
Written by 5 Minutes for Mom managing editor, Lolli. You can find me blogging at Better in Bulk and tweeting at @1momof5.
Disclosure: I am working on behalf of the Clorox company and received information about office health tips from Clorox.
Image from 123RF Stock Photos.