This post may contain affiliate links. Read my disclosure policy here.
Halloween is officially over, but if your house is anything like mine, you've got buckets full of candy left from the holiday.
Jackson, Olivia and I adore Halloween, and I admit that we love candy as much as the next family. But buckets of candy? My teeth are starting to ache just thinking of all that we collected!
After the trick-or-treating bounty each year, I try to set limits, including letting the kids chose a handful of their favorite treats. Everything else goes into a pot that is controlled by Mom. Otherwise, I think I'd have two over-indulging kids.
We all know kids and sweets go hand-in-hand during Halloween. How do you help little ghosts and goblins find a treat balance during this scary season?

Once again, this week's Disney D-Lightful Challenge is right on target. Learn the tricks to a happy, festive Halloween when you tackle this week's video challenge and then check out these great Halloween treats from Disney: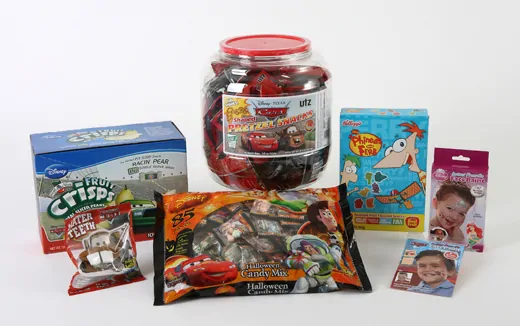 Fan Stamp's Instant Press-On Face Paint
These Disney Princess- and Disney·Pixar Cars-themed face paints allow you to create fun and unique designs perfect for any Halloween occasion. The face paint decals are easy to apply and easy to remove, making them a treat for kids and parents alike.
Frankford's Halloween Candy Mix
A little candy is always a sweet thing. Who doesn't love candy featuring favorite Disney characters?
For a quick costume change, bite down on these Disney·Pixar Cars Mater Teeth. Featuring a fruit-flavored lollipop, the Mater Teeth are bound to create a laugh just like fans' favorite tow truck.
Brother-All-Natural Freeze Dried Fruit Crisps
These crispy 100% fruit snacks are available in an array of flavors, offering a great fruit alternative to sugary Halloween treats. And the Disney-themed packaging will bring a smile to small and big alike!
Fruit snacks, a longtime favorite of kids, meet up with Phineas & Ferb to bring a fun and tasty treat that comes in all shapes and flavors.
These delicious pretzel snacks bring their favorite Disney·Pixar Cars characters to your kids' plate. These snacks will be a hit in the lunchroom that everyone will be trading for.
Enter to win!

We're giving away a prize pack from Disney featuring all of the products listed above. To enter, simply leave your best post-Halloween survival tip.

This giveaway will end on November 15, 2011 at midnight ET and a winner will be chosen at random and announced on Sunday in the weekly Around The Blogosphere. Please see our site's terms and conditions for more information.
Please note that we are compensated Disney Brand Ambassadors, but as I said, our love of Disney and all of our opinions are completely our own!
Written by Janice Croze, co-founder of 5 Minutes for Mom.
Wanna chat? Find me at: @5minutesformom, @janicecroze and Facebook.com/5minutesformom.

Halloween candy image from 123RF Stock Photos.