This post may contain affiliate links. Read my disclosure policy here.
In an ideal world the harshest things to ever touch our babies would be kisses, kittens and rainbows.
In the real world, though, toxic chemicals and artificial ingredients abound, and are all too easily absorbed through our children's sensitive skin. As parents, we do our best to keep exposure to a minimum, especially with the products we buy and use every day.
Dolphin Organics provides natural and organic baby products that are hypoallergenic, vegan, and contain no harmful chemicals. Their innovative labels proudly display exactly what is in their products– and what is NOT: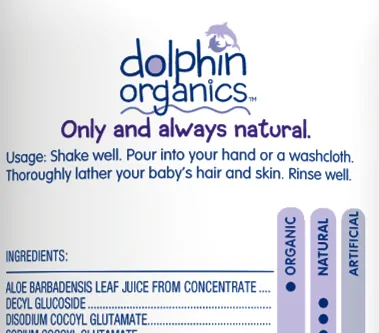 There's plenty to love about Dolphin Organics–
family-owned, and based in the USA
packaging is made with post-consumer recycled material
products are never tested on animals
a portion of every purchase to is donated to Friends of Karen, a charity dedicated to supporting the families of critically-ill children.
But does it work? We tried Dolphin Organics shampoo and conditioner: fragrance free, tear free and formulated with a healing organic aloe leaf juice base. Both are very light in fragrance (a HUGE plus in my book). The shampoo creates a really satisfying amount of suds and the conditioner is thick and rich, but both rinsed out incredibly quickly– great news for those with kids who hate water being poured on their heads. My long, thick hair was a little more challenging to comb out than usual, but my hair had a ton of wave and bounce when it dried: a sign that it wasn't weighed down by residue.
That's right, I tried it myself first. Since I'm the one washing little kid hair, the products need to be gentle for their sake, and for my own! I have tremendously sensitive skin, and tend to break out in hives and itchy patches when using soaps and cleansers that aren't incredibly gentle. I'm happy to say Dolphin Organics passed my DIY litmus test with flying colors.
Remember, there are over 75,000 chemicals out there in commercial use in the world today, and only about 1,500 of them have been tested for carcinogenicity. When it comes to the products you use on your child's skin, it's best to stick with something pure, gentle and sourced from nature– for the health of your child and for the health of the earth.
Win it!

One lucky 5 Minutes for Mom reader will win a Dolphin Organics shampoo and conditioner in an eco-friendly tote bag. Just leave a comment letting us know how your child feels about bathtime to be entered!

This giveaway will end on November 14, 2011 at midnight ET and a winner will be chosen at random and announced on Sunday in the weekly Around The Blogosphere. Please see our site's terms and conditions for more information.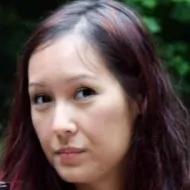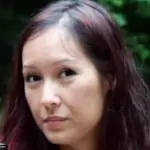 Robin Elton is a real food advocate, wilderness champion and Honey Badger Mom of three. She blogs about the life non-toxic at simple. green. organic. happy.
Disclosure: I received complimentary bottles of shampoo and conditioner for review purposes and will be compensated for my time. All opinions, however, are my very own.