This post may contain affiliate links. Read my disclosure policy here.
As adults, we can appreciate a well made shoe. The support, the cushioning technologies, the comfort – as soon as we slip on a pair of quality shoes, we feel the difference.
But even though our children probably won't rave over a pair of well designed shoes that offers the perfect amount of support for their growing feet, as parents, we will know that we are putting their feet in shoes that we would want to wear ourselves.
As demand for high quality athletic shoes for children increases, Brooks, a leading running company, recently released a new Kids' collection with two distinct shoes – the Kids' Adrenaline™ GTS and the Kids' Defyance – that features footwear technologies similar to those in Brooks' award-winning adult running shoes.
Brooks did extensive research and testing to ensure its tot-sized footwear provides the necessary level of stability without hindering the natural growth of the foot.
Both the Kids' Adrenaline™ GTS and the Kids' Defyance come in styles for boys and girls, and feature enhanced cushioning technologies including HydroFlow®, which dampens and disperses shock, and MoGo, a midsole compound proven to increase cushioning 40 percent and dispel fatigue by 33 percent.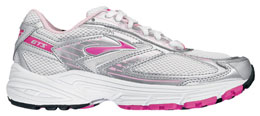 Similar to its award-winning parent, the Kids' Adrenaline™ GTS features Brooks' proprietary Diagonal Rollbar (DRB®), a support device that prevents inward rolling of the feet.
Retailing for $60, the Kids' Adrenaline™ GTS is available in sizes 1 to 7.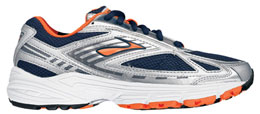 The Kids' Defyance is a neutral shoe made for smaller feet still taking shape.
Modeled after the all new adult-sized Defyance that garnered Runner's World's coveted "Editor's Choice" award in the June 2008 issue, the kids' version retails for $55 and ranges from size 10.5—which fits an average four-year-old child—to size 7.
We had a chance to check out samples of both styles. They are definitely well made, high quality shoes that will not only pamper your kids' feet, but they will flatter your kids' sense of style with their cool designs and colors.
If you want to win a pair of shoes, just leave a comment at this post telling us which style you would prefer for your child – the Kids' Adrenaline™ GTS or the Kids' Defyance.
This contest is open to US and Canadian shipping addresses and we will announce the winner November 8th.