This post may contain affiliate links. Read my disclosure policy here.
I had pretty good skin as a teen. I started wearing make up when I was 13 (remember the electric blue eye liner and mascara? Yeah, that was me…). I never washed my face before heading to bed, and always woke up with extra-blue eyes in the morning. Luckily, it all washed off in the shower and I still enjoyed my good skin.
But, like most things in life, the good skin didn't last, and I found myself as a pimpled college student needing to revise my night time routine. It's tough to start new habits as you get older, but I added in nightly face washing and daily moisturizer to my schedule (until I became a tired mom who fell into bed each night…).
I am now the mother of 3 girls (and two boys, but we're not talking about them today…). It's amazing how life repeats itself and how much I can see of myself in my three girls. Luckily, I was able to convince my oldest daughter (who is almost 15) to start washing her face daily. This week, I've been working on the other two girls.
Good For You Girls
I was recently introduced to Good For You Girls™, an all-natural, chemical-free skin care line made specifically for girls.
I'll let the company's co-founders tell you a little about them and how Good For You Girls™ came to be.
We are Kim and Grace, the co-founders of Good For You Girls™ and very proud moms. We have been friends for years and what started out as a simple trip to our favorite health food store, became the beginning of our Good For You Girls journey. Grace wanted to buy some natural skin care that would be safe and beneficial for her oldest daughter.

After spending what seemed like forever reading labels we quickly realized there were no products we felt were pure, effective or formulated specifically enough for young skin. We knew if we were looking for safe beautiful natural products for our own daughters, other moms were too. Kim had that light bulb moment and we have never looked back!
When I received our sample of Good For You Girls™ products, I was immediately impressed with the scent and the way they made my skin feel (yes, Mama has been using them too!). I think that the most impressive thing about Good For You Girls™ products is not what's in them, but what's NOT.
Green Packaging – Their boxes are printed on recyclable material with safe, water-based inks. All bottles are recyclable.But they still look beautiful!
Cruelty-Free – They never do testing on animals or use ingredients tested on animals.
100% Vegan – Good For You Girls™ does not use any animal byproducts
No Dyes – There are no dyes in any of their products.
No GMOs – Good For You Girls™ does not use plant ingredients that have been treated with Genetically Modified Organisms.
Sulfate & Paraben-Free – There are no methylparaben, propylparaben, or sodium laurel/laureth sulfates in their products.
100% Natural Aromatics – The uplifting citrus scent in Good For You Girls™ is created from the essential oils of grapefruit, orange, lemon and bergamot.
Enter to WIN!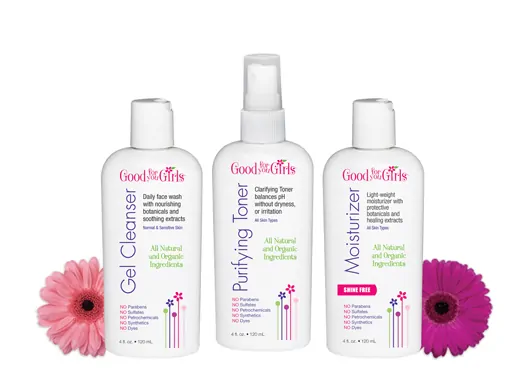 We're giving away a Normal Skin Trio (Gel Cleaner/Toner/Moisturizer) and a Blemish Skin Trio (Blemish Wash/Toner/Moisturizer).
To enter to win, simply leave a comment letting us know what your skin care routine includes (and maybe which Good For You Girls™ product would be helpful to add to your routine!).
This giveaway will end on November 10, 2011 at midnight ET and a winner will be chosen at random and announced the following Sunday in the weekly Around The Blogosphere. Please see our site's terms and conditions for more information.

Written by 5 Minutes for Mom managing editor Lolli. You can find me blogging at Better in Bulk and tweeting at @1momof5.
Disclosure: Good For You Girls™ sent me a starter kit of their skin care products and are sponsoring this giveaway. I really do love their products and so do my girls, and the thoughts included here are my own.