This post may contain affiliate links. Read my disclosure policy here.
Sometimes people come into our lives and leave unexpected but lasting impressions. It's a wonderful blessing when those initial meetings can be revisited years down the road. Such was the case with guest contributor Julia…
An inspiring guest speaker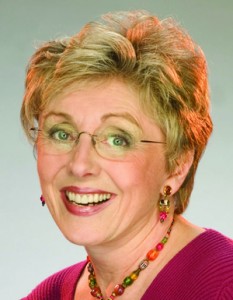 When I was in high school, there was a guest speaker that would come for an annual lecture. An event attended by staff, parents and students, the speaker was a well-known Canadian who had become successful in a certain profession. It was also a way of inspiring the young hopefuls of choosing a career path. Studying at a private school for girls, we were encouraged to achieve great things and believe in our dreams. But seeing another adult 'making it' in a career that seemed almost intangible created sparks.
During my second year, Lynn Johnston was the guest speaker. Best known for her beloved comic strip, "For Better Or For Worse" which was then running in our local paper, as well as over 2000 throughout Canada, the United States and 20 other countries, Lynn Johnston created a spark for me. I was hooked. I had read the strip, along with other Saturday strips, but when I was able to hear an author talk about her work and see that this was a career path that could lead to success, it changed everything for me. "For Better Or For Worse" became my 'go-to' on Saturday mornings – I had heard the author speak in my school!
Just One More Hug
And so time passed. I read about the Patterson family through Lynn Johnston's comic strip. Certainly not all easy laughs, the characters were charming and had a touch of every reader's reality. The three children portrayed in the strip had their own problems and questions which sometimes hit home for me as well as for other Canadians.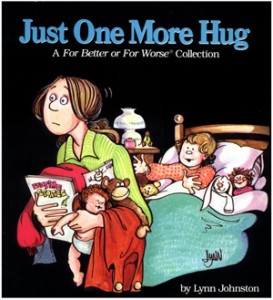 My mother lovingly bought me "Just One More Hug – A For Better Or For Worse Collection" for Christmas the year Lynn Johnston had come to my school. Partly because I had been so influenced by the lecture, but also because the collection illustrated a lot of funny family antics my mother and I shared when I was younger.
Flash forward to today. I followed my passion and became a freelance writer, as well as a wife and a stay at home mother of three. I recently came across my mother's gift to me. Well, let me tell you, reading Lynn Johnston's collection of "For Better Or For Worse" comic strips now as a mother brings on a whole new set of laughs! Hints about parenting, feeding the kids, getting them to listen, trying to work together as parents, trying to find time as a mom without losing it…I now cherish this collection!
My interview with Lynn Johnston
And wouldn't you know, as luck would have it, after I re-discovered my now helpful comedic parenting guide, I had the good fortune to come into contact with Lynn Johnston again! She was gracious enough to chat with me about what it meant to her to be a working stay-at-home mom. Interestingly enough, her road to success was paved much like today's successful mom bloggers; with passion, dedication and a ton of hard work, not to mention multi-tasking.
Social Media and Creative Writing/The Arts
I was very interested to hear what Lynn Johnston thought of social media today and what it means to career hopefuls in creative writing and the arts. "When I had my children, my social world was reduced to Cheerios and peanut butter and jam sandwiches, so I think the idea (of a community of new moms) is wonderful, but the internet can be a waste of energy. Commenting on others takes time, you have to pick and choose. Now the only people I spend time with online are people I mentor, other writers, friends and work associates."
"How do you carve out the time?"
Which brought me to the holy grail of questions for moms in social media: "How do you carve out the time?" For years, Johnston worked as a medical artist, and then when she was expecting her first baby, her obstetrician challenged her to do some drawings for his clinic. Eighty comic drawings later, the collection became her first published book called "David, We're Pregnant". It sold over 300,000 copies.
The birth of "For Better of For Worse"
To pay the bills, Johnston did everything from designing cereal boxes, billboards, flyers and book illustrations which led to two more publications on a humorous, down to earth look at parenting, "Hi Mom, Hi Dad" and "Do They Ever Grow Up?" Then in 1978, Universal Press Syndicate contacted her about writing a daily comic strip after seeing her books. "For Better Or For Worse" was born.
Work-at-home Mom
At that time, Johnston's son was five and her daughter was six months old. From nine to noon she worked on her comic strip. With a helpful neighbour and a mother-in-law nearby, Johnston had help from others. But what was important to her as a work-at-home mom was staying connected with her children in and out of school. Johnston made sure to be part of the school community: "It was important for me to do the bake sales and the school plays etc., and I felt rewarded by that. It was a rare opportunity for a working mom. It was a luxury and it brought me joy."
"There were times when I had no choice but to write, for example during holidays, but I made a time and space for the work and I worked within those parameters. Sometimes it was tough with deadlines. The beauty was that I was home for my children", says Johnston. So how did she make a space for her work? "I had a studio, a spare room which allowed me to work uninterrupted – more minutes at a time."
Sharing too much?
As most mom bloggers struggle with the concept of sharing too much, I chatted with Johnston about her personal experiences in her comic strip. When asked how true to her own life the characters were in "For Better Or For Worse", Johnston says the emotions were real, but the characters were purely fictional.
"With Michael and Elizabeth in FBorFW, they experienced and had certain expressions, and characters similar to what my children had, but they were not my children. In fact because I only had two children, with April, the third child in FBorFW, I got to do whatever I wanted and it was fun. My son and daughter were picked on in school when other students made the assumption that the characters were them (ex. when I wrote that Michael had a girlfriend). I made it a point to teach an art class at their school once in awhile so that the kids could hear from the horse's mouth that my characters were purely fictional." Talk about a caring mama!
Enjoying the loyal readers
And finally, the other question that seemed to be of interest to mom bloggers at the last conference I attended was "how do you know who's reading?" As a comic strip artist, or any author for that matter, it's the same thing. Johnston said she received hand written letters from her loyal readers. Thousands. And in the 90's she began to receive e-mails. And although I never took the chance to send Mrs. Johnston a letter, I am happy to know that so many did. And perhaps now I can express to her my gratitude for the laughter she provided in the last two decades to me. First as a student, and now as a mama.
Written by Julia, who blogs at AskMamaMOE. Julia's freelance writing career took off when she and her husband moved to Milan, Italy. Attending fashion shows and writing for European magazines was her thing before children. Now with a preschooler and twin toddlers, life may not be as glamorous but there is always a great show!

Julia created the AskMamaMOE blog to connect with other parents and keep writing. Never a dull moment, her husband and their three wonderful children give her a lot of great material and keep her life complete with lots of surprises!