This post may contain affiliate links. Read my disclosure policy here.
Who in our generation didn't love imagining with Harold and The Purple Crayon? Contributing writer Safire has been reliving the childhood magic this week with her 3 kids.
Relive the magic of Harold and the Purple Crayon
Harold and the Purple Crayon was the reason why I never had any purple crayons left in my crayon box as a kid. I always used them first, hoping and inventing just like Harold did in the classic children's tale by Crocket Johnson.
Now our kids and enjoy Harold and the Purple Crayon even more than we did as kids! Trilogy Studios has taken this classic storybook and turned it into the first of their Touch series of digital books.
Designed for children two to six- years-old and up, young readers interact with the book by using the touch pad to help tell the story. My kids enjoyed discovering magical elements on every page. Trilogy Studios wants each child to have an engaging, "lean forward" experience that puts a smile on their faces.
What we loved about the Harold and the Purple Crayon App:
Pros: My mom and I played with this story and oohed and aahed over the hidden magical elements. Each new discovery delighted us, and only enhanced the book more. Our delighted squeaks and giggles brought my boys from across the room to see what the fuss was all about. The four of us spent a fun afternoon with our heads pressed together, swiping on each new page to see what hidden delights we could make happen.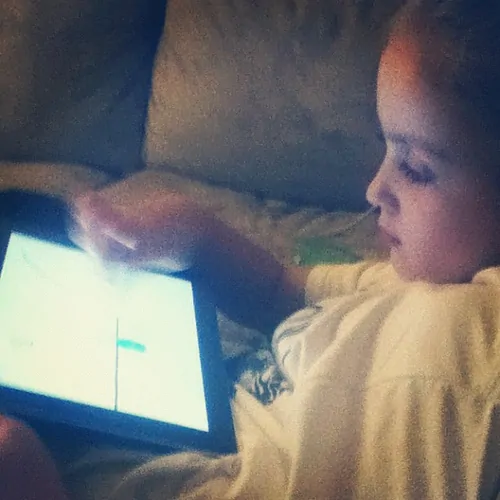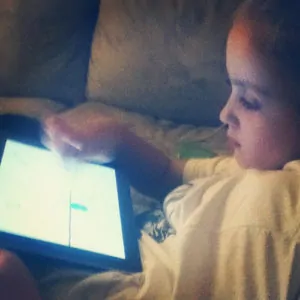 I loved that my 3 year old twins could easily navigate the opening menu, and could enjoy the story read to them. (The narrator's voice was not annoying either, so I didn't mind hearing the book several times in a row.)
I loved that they could push the hidden elements over and over and choose when they were ready to move on, and not before. The dragon was a huge hit.
I also enjoyed that my 6 year old was even engaged. She could choose to have the story read to her or to read it herself. She also loved that she got to color in parts of the book herself. And for a 6 year old who loves to draw, that was big.
The menu included a tutorial. I did it with my 6 year old, and she asked why it was in there. "It's easy," she said about knowing what to do in the book. I found the tutorial helpful so I knew exactly what was going on in the story and could answer any questions my kids could have. They didn't have any, it's very intuitive.
There wasn't much we didn't love about this App:
Cons: My 6 year old complained that it finished coloring in the bigger pictures for her. I liked that feature for my 3 year olds, but I could see how that would frustrate the more engaged color-er. I told her to go whittle down her own purple crayons on paper like Harold did, and she tried to copy each page from the iPad.
The Harold and the Purple Crayon iPad App is available for $6.99 from the App Store. It will soon be available on the iPhone and Android platforms.
Enter to WIN Harold and the Purple Crayon app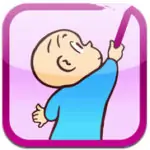 To enter to win a free Harold and the Purple Crayon app, leave us a comment on this post. Do you have any fun memories of Harold from your childhood?
This giveaway will end on October 31, 2011 at midnight ET and a winner will be chosen at random and announced shortly after. Please see our site's terms and conditions for more information.
Written by contributing writer, Safire, mom of 3 year old twin boys and a 6 year old girl, and author of the blog Water Falling Up. Safire received an app to try out but all thoughts and experiences are her own.