This post may contain affiliate links. Read my disclosure policy here.
5 Minutes for Mom contributing writer, Heidi Strawser, chimes in today with the age-old dilemma – how do you make lunch time fun and healthy for your kids?
Are you stuck in a lunch-time rut?
I'm a homeschool mom, so I don't have to pack lunches for my kids to take to school….but I do have to find things for them to eat. Because we are at home every day, sometimes I feel like our lunch routine is actually more dull and boring than the kids who are in school (they seem to get a better variety of foods). I always plan our supper menu; but when it comes to our lunches, I feel like we are often stuck in a rut – eating the same foods day after day after day . . . well, you get the picture! 
V8 V-Fusion Lunch Kit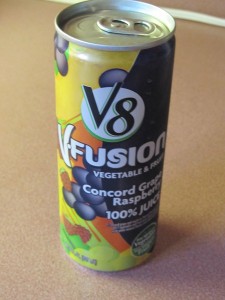 Recently, I discovered V-Fusion Concord Grape Raspberry juice in 8-oz. cans from V8.  Around my house, we really can't purchase grape juice because we all love it so much that we guzzle a whole container of it in a few short hours.
Having the single-serving cans was so nice because my kids knew they were allowed one can at a time, and it was just enough to satisfy their grape juice desire! The 8 oz cans are also the perfect size for packing in a lunch box; and the juice tastes so yummy that I'm sure your kids will thank you for it!
In addition to the grape juice, we received a whole package of goodies for making those packed lunches more fun. Because we homeschool, my kids don't have lunch boxes. None of my kids had complained about not having their own lunch boxes until this summer when the back-to-school items were out in full force in the stores. My daughter Gracie (who is 11) said, "Mom, I never had a lunchbox!" as if it was some sort of rite of passage or something!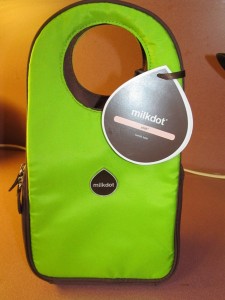 I confess that I felt just a bit guilty, and have been watching the clearance racks for a lunchbox that I might buy for her. I was glad I waited because the most adorable lunchbag arrived with this pack of goodies, and Gracie is now the proud owner of the cute brown and lime green treasure!  
A twist on the traditional sandwich for lunch
I'm not a huge fan of the cold-cut sandwich. I know it's a traditional "pack in your lunchbox" item, but I'm just not fond of store-bought bread. The new flatbreads that are available are much more to my liking; so I was pleased to see the Goldfish version from Pepperidge Farm.  My kids could literally live on Goldfish crackers; so they were excited at the possibility of a Goldfish sandwich.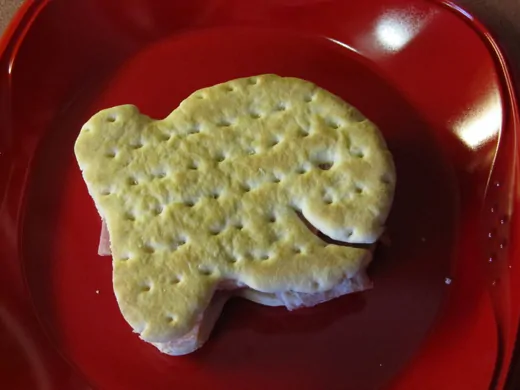 My deprived children are now enjoying lunch! Not only do we have a great lunchbox, Goldfish sandwiches, and delicious juice, but we've also  got reusable Vel-cro bags (great for packing sandwiches and snacks for when we're on the go), and cute little notes to personalize and include in their lunches.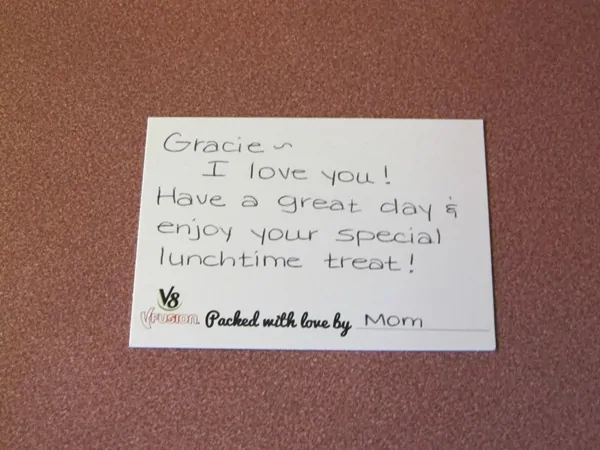 Win a V8 V-Fusion Lunch Kit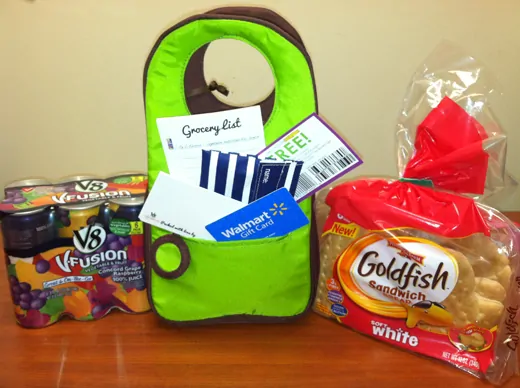 The giveaway kit includes:
A six-pack of V8 V-Fusion Concord Grape Raspberry 8 ounce cans
A green lunch tote
Reusable Velcro bags, the perfect item for keeping sandwiches and snacks fresh
Branded cards for moms to include notes for their children to read at lunch
Branded grocery list notepads so moms can remember to pick up Concord Grape Raspberry slim cans on their next trip to the supermarket
$25 Wal-Mart gift card
A coupon for one free V8 V-Fusion, V8 V-Fusion Light or V8 V-Fusion + Tea beverage (46 ounce or 8 ounce 6 pack)
A pack of NEW Goldfish sandwich bread from Pepperidge Farm, the perfect item to turn a boring sandwich into an exciting lunch item

To enter to win a gift package containing all of the above-mentioned goodies, leave a comment below with your best lunch-packing tip or share one lunch-packing dilemma. 
This giveaway will end on October 31, 2011 at midnight ET and a winner will be chosen at random and announced shortly after. Please see our site's terms and conditions for more information.
Disclosure: We received a V8 V-Fusion Lunch Kit to try and review. Our thoughts and opinions are always our own.
Written by 5 Minutes for Mom contributing reviewer, Heidi. You can find me blogging at Heidi's Head.