This post may contain affiliate links. Read my disclosure policy here.
Hasidic Mom and Singer, Chanale, performs the songs she writes about her faith and her children to all-female audiences worldwide…and then blogs about them.
What does it mean to be truly satisfied?
Lately I have been wondering what it means to be truly satisfied. My mother claims I was always in rush to become an adult. Maybe it had something to do with being an oldest child. Maybe it was just inborn, this yearning to be free from structure (and as orthodox Jews, our family life thrived on structure). Music was my first escape. At ten years old I was listening to Amy Grant and Bryan Adams with a walkman under my pillow and I was suddenly aware that there was this whole world of emotion that I was to one day experience, if only I could just GROW UP already.
At ten years old (I'm the Danish milk-maid) with my sisters.
Of course I believed that when I got married, I would be truly content. How could life be less than perfect when you have a loving man at your side and the freedom to make so many kinds of choices? I imagined blasting rock n' roll in my kitchen while I cooked and cleaned, which I did (to my neighbor's dismay!). But those fleeting moments of fun and freedom and quite 'keep me satisfied'.
When my first child was born I carried her car seat upstairs to our apartment. There were flowers in every vase and my mother was cooking food for Shabbat dinner. That was one memorable moment when I thought that finally I had arrived. I felt so complete and believed that it was the best day of my life. What could I need more than this perfect newborn, my doting husband, (and my mother cooking for me!). Granted, the music stayed at a low volume for a while but I felt free, and satisfied.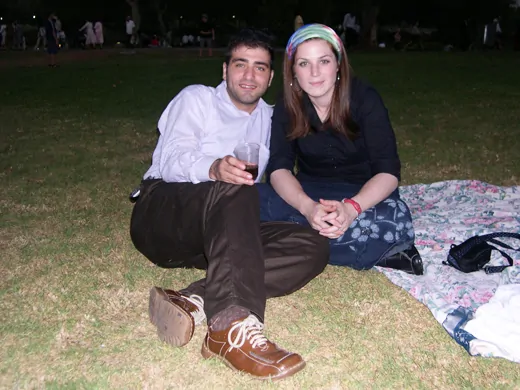 Newlyweds
With my firstborn Hadassa
Lighting Shabbat candles for the first time with Hadassa
Yearning for something greater…
But with every milestone, the birth of our second daughter Yaffa, and the completion of my 4th and 5th album, I discover that fulfillment is a long time coming. The more I accomplish, the more I yearn to attempt something greater, more challenging. Once I thought two children would be enough, but now, as my girls get taller and their baby fat slowly disappears I once again begin pondering the prospect of jumping into it all over again.
Another pregnancy, another baby, (another 2 years hiatus from singing), and then the desire will unleash itself and I will be back in the studio, producing again, digging deep into my heart and soul, hoping I have been changed in the process, and have something new to offer. Most days I feel as eager as I did when I was 10 years old, waiting for my life to begin. When my girls call from the backseat of the car "Are we there yet?" I am tempted to answer "No, we are never really there".
With our second daughter Yaffa
The Music Won't Last
In one song I wrote called "The Music Won't Last" (based on a poem written by David L. Weatherford), I sing about this exact syndrome. Ever find yourself switching the radio station while listening to a song you're actually enjoying just in case there is a better song on another station you might enjoy more? It seems once we know what the ending is, we're bored already.
But music is made to enjoy and experience, each listen providing another level of pleasure. The layers in the harmony, rhythm and story all there to be discovered anew with each replay. Maybe that's why I find such an escape in music. The emotions, the journeys, the experiences I yearn for in life are all there in the song.
Life is like a song I believe. Every mundane experience has layers upon layers of meaning to uncover, so why change the station before the song is over? Crank it up, no matter how cheesy that song might be, and sing it, experience it, LIVE IT. That is my focus this year. I am gonna live in the moment, experience the pleasures of motherhood, marriage and music for what they are worth right here, right now. And maybe get back to that old Bryan Adam's cd….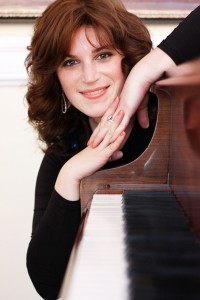 Written by guest blogger Chanale.
Chanale is a singer, songwriter, recording artist and performer whose melodic and moving songs open the hearts and touch the spirits of women in communities everywhere.
Her powerful performances excite and inspire all-female crowds in places as far as China, South America, Alaska and Israel.
Chanale is the mother of two beautiful girls and blogs at ChanaleSings.