This post may contain affiliate links. Read my disclosure policy here.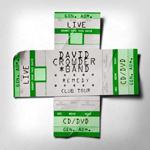 On August 19, 2008, David Crowder Band released the highly anticipated Remedy Club Tour Edition DVD & CD. The DVD & CD includes more than 85 minutes of live music from their Remedy Club Tour. The tour's "Surely We Can Change Something" campaign collected thousands of towels and socks for local shelters while encouraging concert-goers to "be the remedy" in their communities.
Title cut, "Remedy", accentuates the wounded human condition, while simultaneously challenging people to be the remedy in a world that is broken.

With the belief that it is people who evoke change in the world and not just songs themselves, the band's most recent project dares their audience to look outward, so that the songs they sing are more than just words, but instead are momentum toward change.

"It seems like from the moment we get here, we breathe in individualism," Crowder says. "And so, this record is, for us, an answer to the question of how we interact with something much broader than ourselves. It's to provoke change in ourselves, and to export that change to others."

Where there is pain…let us bring grace. Where there is suffering, bring serenity. For those afraid, let us be brave. Where there is misery, let us bring relief. Let us be the remedy.
I love worship music, especially the kind that has me on my feet dancing and raising my hands up to God. I love songs that I can blast through the house and that energize me. I also love song lyrics that inspire and challenge me. I love this album, because it leads me in an energizing worship experience with lyrics that encourage and motivate me.
Would you like a little teaser of the DVD portion of Remedy Club Tour Live?

How about another little treat? We have a special mp3 download to give to all of you, but it is only for a limited time. You can click here between now and October 30th, to receive a free mp3 download of the song, "Neverending", from Remedy Club Tour Live.
We also have 3 copies of Remedy Club Tour Edition DVD & CD to give away. If you would like to win, please leave a comment below. We will select our winners on November 1st.
Good Luck.