This post may contain affiliate links. Read my disclosure policy here.
Dinner time.
I don't know about you, but at my house?  It's crazy.  Aside from getting my 5 year old and 4 year old twins to school in the mornings and back, we have errands, doctors appointments, play dates and more.  In the middle of all that I have to find enough hours to write, be available online … and have dinner ready daily at 4pm.
I know.  4pm?!  Dinner?  My husband works two jobs so sitting down to dinner every night as a family is extremely important to us.  He is only home weeknights for a half hour so dinner needs to be ready and waiting when he walks in the door.  For the boys it's the highlight of their day.  We all sit down at the dining room table, eat together and take turns talking about our day before Daddy has to rush back out to his other job.
Let me tell you how hard it can sometimes be to have dinner ready on time.  If I have planned ahead and know it will be a busy day, I make it a crock pot day.  Set it up in the morning and it's done when I need it.  Other days I have forgotten to plan and it's whatever I can throw together OR a quick run to get some take out.  Which I don't need to tell you throws off the weekly spending budget.  And when I'm in a pinch it's leftovers.  Or maybe I make something the boys just had a few nights ago.  And I get this face.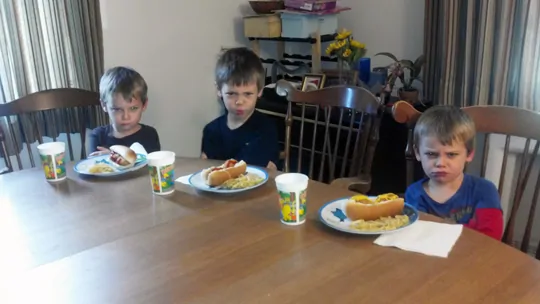 As a kid I remember my mom planning meals and grocery lists each week and sticking to them.
Me?  Fly by the seat of my pants at the market according to what's on sale each week as the boys try to throw other things in the cart.  I never have a plan.  Well, I might plan a meal or two for the week but that's it.  This is why I fell in love with E-mealz upon hearing about them.
E-mealz has dinner menu's based on weekly grocery store sales, seasonal discounts and diet preferences.  It doesn't matter if you are on a budget, diet, have a picky family or just need meals for a table of 1 or 2 people!  The website says to think of them as your 'mental maid for $1.25 a week'.  Love that! 
You can pick from family friendly 7 day dinner plans for 4-6 people or a 5 day dinner plan for 2 people.  In the end there are a variety of 28 options to choose from so it's easy to find the best fit for you.  (They include gluten free, low carb, low fat, portion control and even vegetarian!)  I picked the low fat option – which is NOT a diet – just a better way to eat healthier.
How does e-mealz work?
You pick your plan on the E-mealz website.  You print out the grocery list with all the items you will need to buy (with the prices listed for Kroger, Publix, Wal-Mart, Aldi and Ralphs).  Shop accordingly.  (Don't have these markets near you?  Prefer to use a different one?  There is even an 'any store' option!)  Come home, print the recipes and that's it!  Oh yeah, cooking… you have to cook.  BUT E-mealz has taken all the guess work out of what you need and what to do next.  It's been all planned for you.
Here's something I like: meals are not repeated weekly!  (Which at my house I have done all too often.)  Not happy with the plan you picked?  You are able to change to another plan.  E-mealz also has gift certificates available, which I think is perfect for a newlywed or any parent/caregiver of small kids.  Just $35 for a 6 month subscription or $65 for a year. 
I am a huge fan of E-mealz for keeping me on budget, as well as introducing us to many new recipes (without having to come up with it all myself).
The boys are smiling so far.
Enter to win an E-mealz subscription

We are thrilled to be giving away FIVE (5) 3 month E-mealz subscriptions to 5 Minutes for Mom readers. You pick the meal plan! To enter, let us know which meal plan looks the most appetizing to you.

This giveaway will end on October 20, 2011 at midnight ET and a winner will be chosen at random and announced shortly after. Please see our site's terms and conditions for more information.
Exclusive discount for 5 Minutes for Mom readers:
Don't want to wait? You can use the code 5MINUTES to get a 10% off discount today (and if you are one of our winners, then you will just have MORE meal plans.
Get a FREE MONTH: any current or new members can "pin" anything to Pinterest from the E-Mealz blog, Make Time For Family, with a link back to E-Mealz.com for a free month to be added to their subscription. They would just have to email [email protected] for the credit to be added to their account. So, if you did this and used the 10% off discount code, you could get 4 months meal plans, recipes, and shopping lists for only $13.50.

Connect with E-mealz:
Disclosure:  I was not paid for this post, however E-mealz has given me a 3 month membership to their site in exchange for the review.
Written by 5 Minutes for Mom contributing writer, Liza. You can find Liza on her personal blog, Cira's Lyrics, and on twitter at @Liza_Rae.