This post may contain affiliate links. Read my disclosure policy here.
Birthday and Christmas shopping for my family of seven is a relative breeze compared to having to wrap all of the presents I end up buying for them. Gift wrapping is not one of my greatest talents, and I usually leave the wrapping to the last minute.
Wrapped up in holiday stress
I admit that I often feel like the woman in this picture…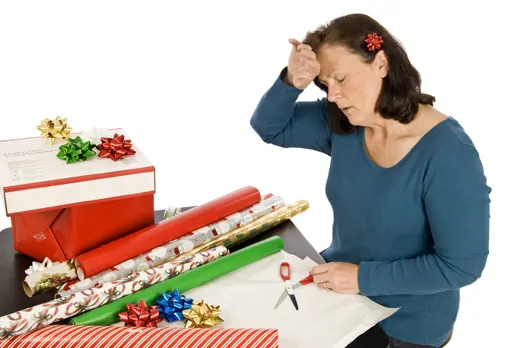 Wrapping presents can take so much time. And don't get me started on all of the odd-shaped packages for the kids that are nearly impossible to wrap without making the gifts look like they were prepared by a 3 year old (or my husband, which is pretty much the same thing…).
Fabric gift bags
I have a friend who moved away a few years ago who was a genius with the sewing machine. I envied her gifts – beautifully wrapped in fabric that coordinated with the occasion. But considering that I am a worse seamstress than I am gift wrapper, I never made any for myself.
I was thrilled when Isabelle offered to send me some cloth gift bags from her online store, VZWraps. The fabrics are delicious and I am so excited by the prospect of not having to stay up all night wrapping presents for our next family event. Now that I have had a taste of her fabric gift bags, I don't think I'll be buying any more wrapping paper for next year's birthdays.
Enter to win
VZWraps has offered a great set of 6 gift bags (including a large holiday bag, two standard bags in kid-friendly prints, an all-occasion wine bottle bag, and two "mini" gift card holders or small gift bags).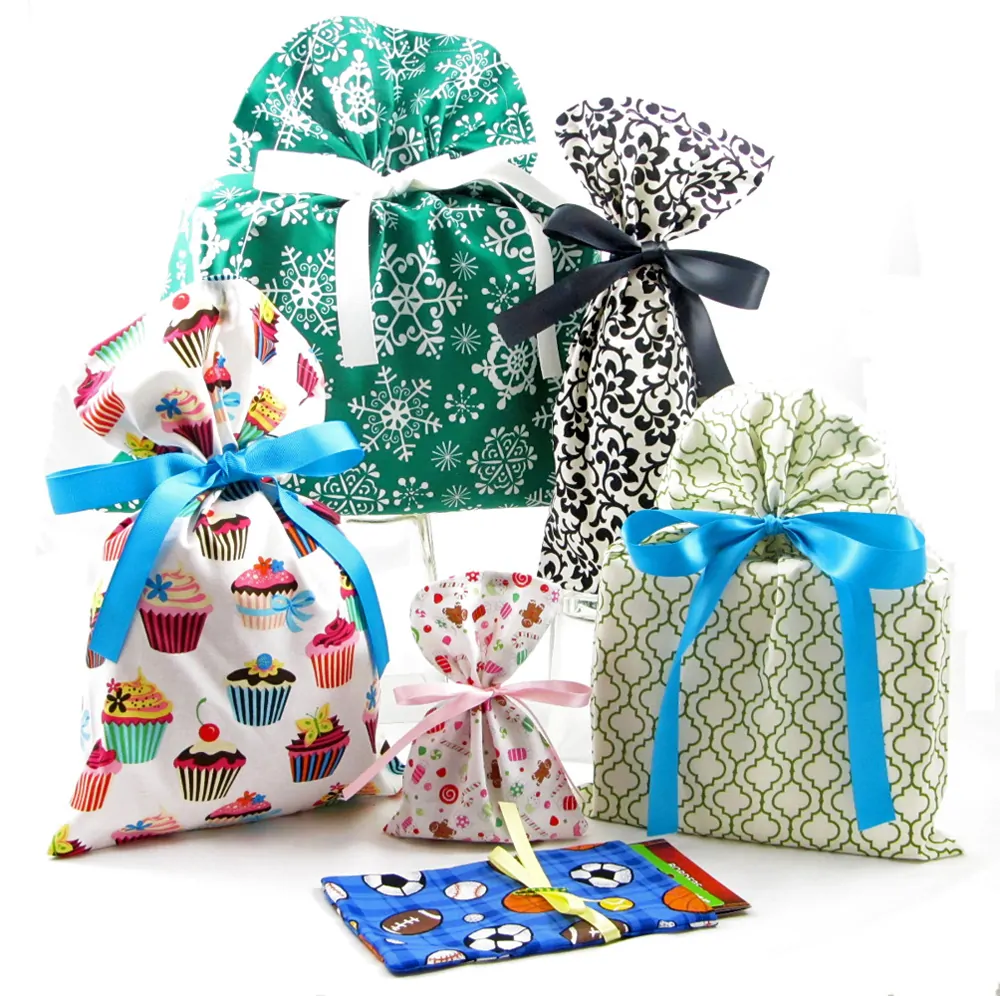 To enter to win the gift bag set, leave a comment on this post letting us know which holiday or event the VZWraps gift bags would come in most handy for.
Which fabric is YOUR favorite? For me, it's a toss-up between Cupcakes and Funky Jungle. Oh, and Gold Vines. There are so many to chose from!
Coupon code for Fabric Gift Bags from VZWraps
Everyone can win! Use coupon code 5MinsMom for 10% off one purchase at either VZWraps.com or the VZWraps Etsy site. The promo code expires 12/31/11.
Connect with VZWraps
This giveaway will end on October 10, 2011 at midnight and a winner will be chosen at random and announced on shortly after. Please see our site's terms and conditions for more information.
Please Note: We received a product for review purposes. As always, our opinions are 100% our own.
Written by 5 Minutes for Mom managing editor Lolli. You can find me blogging at Better in Bulk and tweeting at @1momof5.