This post may contain affiliate links. Read my disclosure policy here.
I am the typical soccer mom. However, for the last several years I've stayed as far away as possible from team sports as I could.
Have you ever been called a Soccer Mom?
Let's get a few things out in the open. I have 5 school-aged children and I drive a mini van. I often wear my hair pulled back in a ponytail or headband….especially in the mornings when I walk the younger kids across the street to the elementary school. Who has time to take a shower in the morning when there are lunches to make and book bags to pack and kids to keep focused?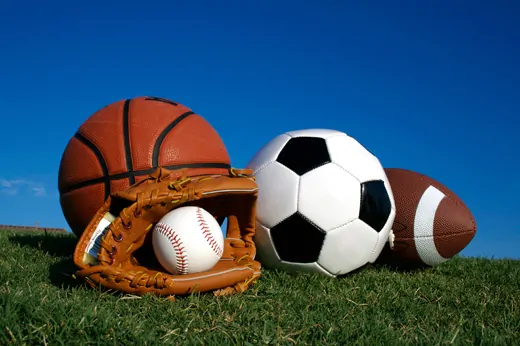 When my older kids were little, I was eager to sign them up for as many classes and activities as I could. I wanted to give them plenty of opportunities to experience diversity, find something they loved, and be active. We enrolled in dance, soccer, gymnastics, cheerleading, tae-kwon-do, girl scouts, cub scouts, track, piano, trombone, violin…
You get the picture.
My kids' team sports were running my life
We had so many activities that I spent nearly every afternoon in the car. I had no time to cook dinner and we seemed to always be eating on the go or late. I had to drag all of the kids to every practice because none of them were old enough to stay home alone or babysit.
There came a moment in the middle of driving across town for another practice that I said to myself, "This has to end! This is not what being a mom is all about!"
We finished that season and summer rolled around. The next fall I purposefully did not sign any of the kids up in any team sports or extra lessons. It was liberating. For the next few years, the kids only signed up for activities that were either hosted after school or in the neighborhood. We kept up with scouting and music lessons through the school, but happily stayed far away from the team sports.
Becoming team players….again
Until this fall none of my kids seemed to miss being involved in sports. Once school started again last month, 4 of my 5 kids (minus the teen) were begging to join teams.
I coughed up money for their team membership and money for their cleats and balls and shin guards. Now I'm coughing up even more money for extra gas as I drive back and forth between 4 practices a week and 3 games on Saturdays. That's in addition to Scout night once a week.
The kids are thrilled, and as much as I really don't love kids' sports, I know that this is the right time for me to embrace my role as Soccer Mom.
Although spending life in the minivan and on the soccer field may not be my first choice, this is something I can do for my kids. The smiles and the shouts of "I made a goal, Mom!" are totally worth the sacrifice.
How do you feel about team sports for your kids?
Written by 5 Minutes for Mom managing editor Lolli. You can find me blogging at Better in Bulk and tweeting at @1momof5.