This post may contain affiliate links. Read my disclosure policy here.
Deb here… I will boldly admit that I am a brew snob. I want to wake up to a cup of coffee and end the day with a cup of  tea, and I want delicious or I would rather do without. Are you a brew snob, too?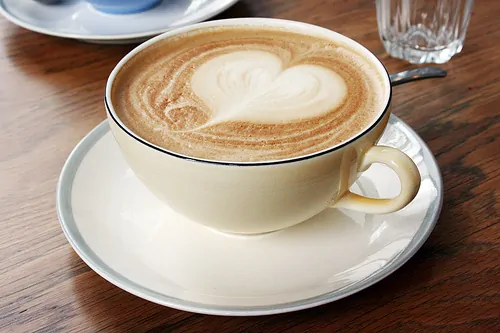 The roots of my love for coffee and tea
My love for coffee is from my Gram. She drank it all day long. Hot, cold, or in between it didn't matter. She lived in the upstairs unit of our duplex, and I loved running up there for our coffee dates. Gram would let me select my favorite from her china demitasse collection and she would fill it with equal portions of coffee and warm milk with a little sugar. Many of my four year old problems were solved over a cup with Gram.
Understanding and appreciating the soothing qualities of a delicious cup of tea came from my Mom. It could settle a queasy tummy or warm up even the coldest Michigan winter afternoon.
Because of those two dear women, my love of coffee and tea began at a very young age – making me the brew snob that I am today.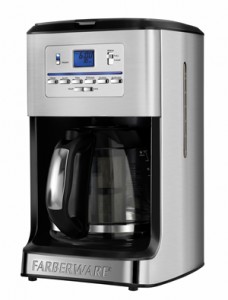 And it is due to my snobbery that I prefer to make my coffee and tea at home. If you're a brew snob too, I'm sure you can imagine how thrilled I was when I was asked to review the new Farberware® 12-Cup Programmable Coffee & Tea Maker this past week.
What I liked about the Farberware® 12-Cup Coffee & Tea Maker
The first thing I liked was that the stainless steel unit has two specialized permanent filters for coffee grinds and tea leaves. Having both capabilities in one unit has made it possible for me to replace my old coffee maker and my tea kettle. I love it when I am able to pare down on "stuff."
A few more things I really like about this product:
The glass carafe's "perfect pour" spout is really perfect! It never drips! Something that drove me crazy about my previous carafe.
The "Sneak-A-Cup" feature is also drip free. No more burned coffee on the warming plate.
The auto brew programming and adjustable auto shut off give me two less things to think about first thing in the morning. I need that!
Check out this quick demonstration of the features:



My husband says that he wishes the fill window on the side was a little easier to read, but we both agree that all of the things we like about this coffee & tea maker far outweigh that one.  I have tried many different coffee makers from very inexpensive to those with a much higher price point, and this is without a doubt my favorite.
The Farberware® 12-Cup Programmable Coffee & Tea Maker is currently available at Walmart.com and at all stores beginning in November.

Okay, true confession time, tell the truth . . . are you a brew snob, too?
We're giving away a Farberware® 12-Cup Programmable Coffee & Tea Maker
To enter to win a new Coffee and Tea maker from Farberware® all you have to do is leave a comment on this post telling us what you would love most about having this in your own kitchen!
This giveaway will run through October 5, 2011 at midnight and a winner will be chosen at random and notified shortly after the end date. Please see our site's terms and conditions for more information.
Written by Deb, wife, mom, "gram," and busy blogger at Counting my Blessings. Deb is also a contributing editor at 5 Minutes for Faith.
Please note: I received a Coffee and Tea Maker from Farberware to test at home, but the thoughts and opinions about this product were my own. I really do love it!
Coffee photo by hellojenuine on flickr (creative commons).