This post may contain affiliate links. Read my disclosure policy here.
Do you have a tiny dancer in your home? I must admit, watching my tutu adorned daughter leap, spin and dance around the living room, brings the biggest smile to my face. Stephanie Troller and Mary Kate Mellow, two moms with no prior filmmaking experience and inspired by their daughters' love of dancing, created the enjoyable kids DVD, "Prima Princessa Presents Swan Lake".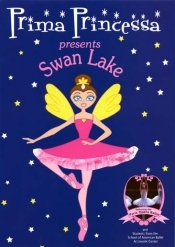 Prima Princessa Presents Swan Lake is a 40-minute DVD for children 2-8, starring an animated fairy ballerina who magically transports a group of little girls to see the Paris Opera Ballet perform select segments of Swan Lake. The show is cleverly abbreviated and narrated to appeal to young children.

Between acts, the children return home to learn simple ballet steps, which are playfully shown mixed into colorful montages of toys, animals, children and young dancers from the School of American Ballet, the official academy of the New York City Ballet. It is ranked the #1 Kids ballet DVD on Amazon.com.
My favorite part of the DVD is the narration during the scenes of Swan Lake. I am not as well versed in the field of humanities as I should be. And up until watching Prima Princessa Presents Swan Lake, I had not heard the story of Swan Lake before. The DVD allowed my daughter and I to become immersed in the ballet and also understand the story that was being portrayed.
At the end of each act, my daughter was on her feet practicing various ballet steps like pirouette, jeté and grand battement.

Prima Princessa Presents Swan Lake brings world-class ballet into your living room in a format that is educational, culturally enriching and fun.
If you would like a chance to win one of two copies for your tiny dancer, please leave a comment below. We will announce our winners on October 11th. The winning copies can be shipped to both US and Canadian addresses.

Make sure to keep your eyes peeled to the Prima Princessa web site, as some exciting projects are in the works, including the releases of Sleeping Beauty and The Nutcracker as well as two Prima Princessa Swan Lake books.
Good Luck!