This post may contain affiliate links. Read my disclosure policy here.
Who has time to plan play dates?
Keeping 5 kids entertained during the summer months is not an easy feat. They all want to be doing, doing, doing. Always on the go. The problem is that planning play dates and outings ahead of time is not my greatest strength (ok, I admit – I am horrible at it!) and so more often than not, we miss out on activities because I haven't planned in time and our friends are already occupied.
This past week, for once, I planned ahead (incredible!) and invited a big group of my friends and their kids over for a back yard party.
RedRover, RedRover, send some friends right over!
I decided to give the event planner on RedRover, my newest iPhone app, a try. It only took me a minute to create an event and add the emails of my friends to the invite list.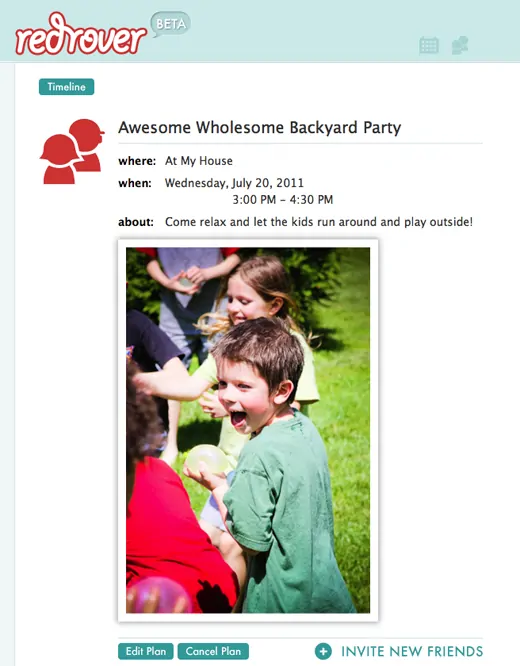 I loved that creating my event and inviting people to attend was easy. 10 minutes before my party started, I received a ping reminder on my phone.
I've been able to use RedRover this past week for a few get-togethers:
A meet up at the pool
An impromptu play-date at the park
A Just Dance 2 mini-party
A trip to Sam's Club with a friend
A quick bike ride with friends

Being able to send a quick message to friends or let people know where I am heading is perfect for me. I can add details on my desktop or straight from my smart phone.
Summer Success Tip: Schedule things like library trips or visits to the pool on the same day and time each week so that kids can anticipate what they'll be doing each day and so that friends can more easily plan to join you, too!
RedRover and social good
RedRover has partnered with Christy Turlington and her everymothercounts.org charity.
RedRover is giving $1 for every app signup/download between July 7 and July 28 – up to $20,000. Every Mother Counts is an advocacy and mobilization campaign to increase education and support for maternal and child health.
Watch RedRover in action
RedRover from RedRover on Vimeo.
What plans would YOU make on RedRover?
Check out the RedRover website and download the FREE RedRover app from the iTunes store or from the Android marketplace.
Note – we are being compensated for our time to test out the features of the RedRover app, but the thoughts and experiences using the app are our own.
Written by 5 Minutes for Mom managing editor Lolli. You can find me blogging at Better in Bulk and tweeting at @1momof5.