This post may contain affiliate links. Read my disclosure policy here.
I was having one of those days. Are you familiar with them? I had a ton of work to get done. My 4-month-old , who never fusses, wouldn't stop screaming and crying. He also would not let me put him down. My-two-year-old, who decided it was a good day to NOT want to wear diapers, repeatedly removed his. He was also turning my walls into a canvas for his crayon drawings. My four-year-old decided she did not want to entertain herself and was constantly asking me to paint, have craft time, play games, and dance with her.
Just as I was starting to get a tad stressed out, there was a knock at my door. The UPS man, a.k.a. knight in shining armor, had brought us a package. Inside was a brand new Wiggles DVD, You Make Me Feel Like Dancing.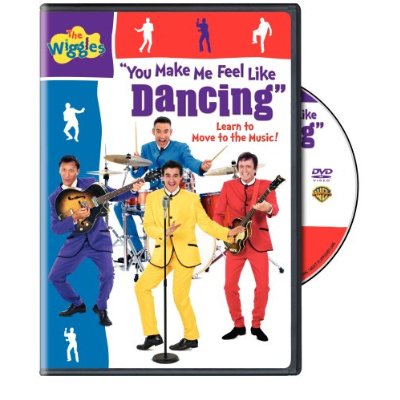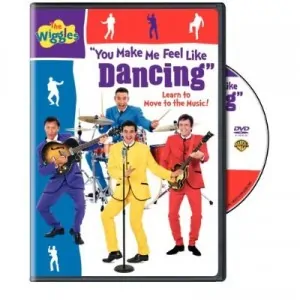 My two-year-old, recognizing The Wiggles on the cover, immediately squealed with delight and headed towards the television.
I turned it on and even placed the screaming and crying baby into his Bumbo to watch it.
And as soon as the Australian quartet began singing, my house was silent. Even the baby sat there content.
My day was saved by Anthony, Murray, Jeff and Sam.
I must admit, it has been a year or so since I have watched The Wiggles. We do have one videocassette of theirs that gets a lot of play in our home, but it is from almost four years ago.I am used to their songs, "Fruit Salad", "Hot Potato" and "Get Ready to Wiggle".
And although You Make Me Feel Like Dancing is definitely a different style than what I have been accustomed to, my children did not seem to mind AT ALL.

You Make Me Feel Like Dancing is the second installment in the Wiggles and Learn series and includes 20 new songs. While some of the songs are a bit on the mellow side, the DVD still includes many of the high-energy songs that get our children up and moving.
One of the new upbeat songs, "Dr. Knickerbocker", has joined the ranks of our favorite Wiggles numbers.
Other songs on the DVD that we really enjoy include: One Finger, One Thumb and A Sailor Went To Sea.
The DVD also features some special guests including Leo Sayers in the opening number, "You Make Me Feel Like Dancing."
If you and your children would enjoy some Wiggles fun, please leave a comment below. I have two copies to give away.
This contest is only open to US shipping addresses.
We will draw a winner on September 6th.

Good Luck